Counselor-in-Training (Ages 13-17)
Didn't get enough of Junior Naturalist Field Camp, but now your too old? No problem! If you are between the ages of 13-17 years old (we will consider mature 12 year olds), you can sign up to be Counselor-in-Training (CIT) at our grade school summer camps.  This free program includes one full day of CIT training and is a great way to gain experience while playing outside and connecting kids to the outdoors.
In Response to the COVID Pandemic: We have decided to make certain modifications to our summer camp programming with the goal of providing a memorable summer experience as safely as possible.
Campers will be asked to maintain 6 ft. of social distancing when reasonable, wear face-masks, and hand-wash/sanitize frequently
No shared food or communal eating spaces
Families will be expected to self-monitor for COVID-19 symptoms
Daily temperature checks will be conducted by camp counselors
We ask that parents please have conversations with their campers about social distancing, using the restroom outside, and the expectation of long(ish) periods of physical activity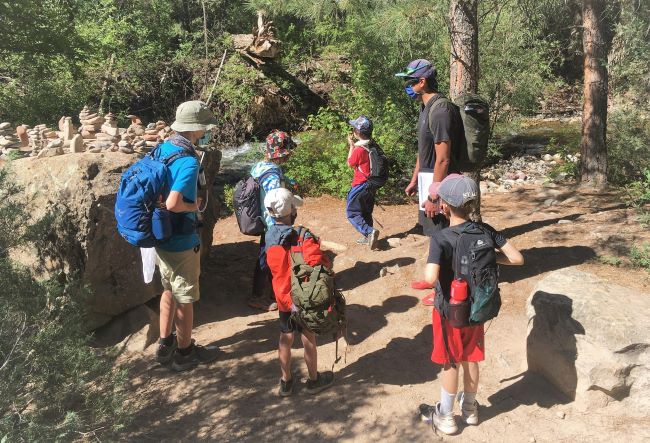 Age Eligibility
13 – 17 years old (We will consider mature 12 year olds)
2022 Mandatory CIT Training
Monday June 6th, 2022 from 8:00am – 4:00pm
2022 Camp Dates / Themes
June 6-10: Wildlife Neighbors
June 13-17: Water World
June 27-July 1: Predators and Prey
July 11-15: Biodiversity Blitz
July 18-22: Eco Village
July 26-28: Day Camp
August 8-12: Nature Detectives
Camp Location
Monday & Friday: San Juan National Forest land
Tuesday, Wednesday & Thursday: Durango Nature Center
Drop Off / Pick Up Location
Fassbinder Park at corner of W 17th St and Main Street
Drop Off / Pick Up Time
Monday – Thursday: 8:15-4:00
Friday: 8:15-1:45
Cost
Free Program
Registration*
Opens March 1, 2022.
Each child must be registered separately. After you enter child's information, you will be able to choose which Junior Naturalist Field Camp sessions you'd like to be a CIT. You must complete the registration for the first child, including payment, before registering your second child. If you have registration questions, check out our Registration Flow Chart.
* Please note that if you have made this registration less than 48 hours in advance of the start of camp, your registration is not guaranteed until confirmed by staff. We need time to receive and process all of the camp forms mandated by Child Care License requirements.
Questions?
Check out our FAQ and our Camp Policies or contact SJMA's Education Director, Adriana Stimax: astimax@sjma.org