Front Desk Ambassadors
Do you enjoy talking with people, learning about your public lands, and actively enjoy your public lands & like to share your experience? Do you have 4 to 6 hours (one-day per week) to volunteer from May through October? 
…Then please contact SJMA at 970-247-4874.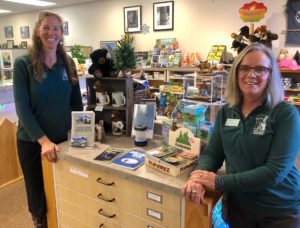 Becoming an Ambassador Volunteer is an exciting way to connect people to the outdoors in Southwest Colorado. We are looking for volunteers in Durango's San Juan Public Lands Center, the Pagosa Ranger District and the Dolores Public Lands office. As a Public Lands Ambassador, here are some of the areas you will be trained:
Answer questions from recreation to land stewardship
Offer assistance and direction in our Visitor Front Desk and SJMA Book Stores
Give first-hand descriptions of trails in the backcountry
Put visitor informational packets together for mail requests
Learn a Point of Sales register system, price, sell and transfer SJMA products to all 14 outlets
Pass on Leave No Trace information
Help with the general operational needs of the center
If you are interested, please contact Priscilla Sherman in Durango at (970) 247-4874, Elizabeth Reid in Pagosa at (970) 264-1527 or come in to the San Juan Mountains Association and fill out a volunteer profile.
AWARD WINNING PROGRAM!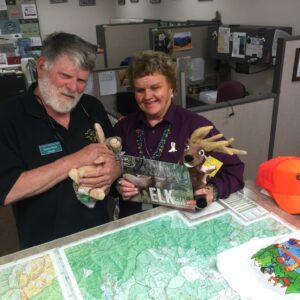 In 2002, National Forest Service Chief, Dale Bosworth, recognized the Public Lands Ambassador Program for its importance, usefulness and value of the volunteer work it accomplished and the public service it provided, specifically volunteers Susan Rosenow, Sue Fedelchak, and Donna Lynas were honored. In addition, Patti Brady was recognized as the national "Individual Volunteer of the Year."  He cited her passion and commitment to providing stellar customer service at the San Juan Public Lands Visitor Information Front Desk, donating hundreds of volunteer hours, initiating and coordinating the Forest/BLM adopt-a-road program, and promoting Leave No Trace and Tread Lightly ethics through initiating contacts during hunting season.
You too can be one of the award-winning volunteers! We are looking for a few more dynamic customer-friendly people to be Public Lands Ambassador Volunteers.