Hunter Information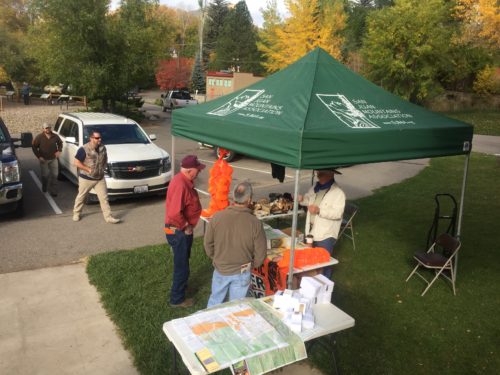 Would you like to help out and provide hunters with information during hunting season? Sign-up to volunteer in the SJMA Annual Hunting Booth located at the Colorado Parks and Wildlife (CPW) Durango office. The only requirement is a smile and some knowledge of the area is helpful, but training is provided.
Duties:
Volunteers representing the San Juan National Forest, Bureau of Land Management Tres Rios Field Office, and San Juan Mountains Association, have booths outside of the Colorado Parks & Wildlife Office to offer a one-stop shop of information so hunters don't have to pick up their license and then drive across town to ask questions about the surrounding public lands.
The booths have been a huge success!  By the end of the Big Game Rifle Season, we generally speak to around 1000 hunters from all over the country (including states as far as South Carolina, Florida, Maine, Mississippi, Texas, Oklahoma, Pennsylvania, Wisconsin, California….to name a few).   We sell SJMA Products (including maps, guidebooks, OHV Registrations and other interpretive products), give out hundreds of MVUMs representing the different SJNF motorized use areas of the San Juan National Forest, and discuss leave no trace low impact camping, wilderness, area fires, weather, motorized use areas and treading lightly, campgrounds, unit boundary locations, and terrain and road descriptions of public lands in the surrounding areas.
Contact Priscilla Sherman for more information