by MK Gunn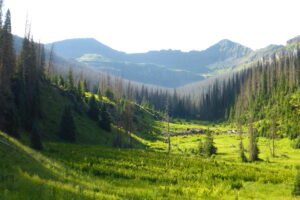 Deep in the Weminuche Wilderness there is a trail that dead ends at the head of a verdant valley crowned by majestic mountains. My two dogs and I wandered up there in August of 2016. After seven miles on a major trail, we turned onto a faint trail. We tromped up a sunny meadow to the edge of the woods. The forest was thick there. Engelmann spruce and subalpine fir tangled amongst the occasional southwestern white pine. These skyscrapers formed the canopy. Down below, deciduous bushes mingled with tall summer wildflowers. Larkspur, monkshood, and cow parsnip were over my head. Ragwort, columbine, and bittercress filled in below. There is a reason why this area was so laden with wildflowers. Almost all the towering spruce trees were dead.
These trees were eaten from the inside out, suffocated and dehydrated by tiny spruce beetles, and had been dead for ten years. The dead trees had begun to fall, opening up the canopy to allow more sunlight and awaken the long dormant wildflower seeds.
The fallen trees complicated travel. After the meadow, the trail was hard to see among the fresh deadfall. I danced under, over, and around three fallen trees within the first ten feet. They rested at varying heights and their mischievous branches grabbed at me. My overnight pack made the choreography harder. My dogs wondered why I was always so slow.  
One large tree had fallen higher than my head but its branches insisted that I continue my awkward dance while tiptoeing on stepping stones in a small stream. Other places offered no view of my footing. I stepped blindly as I parted wildflowers. Some might wish for a machete but I was mesmerized by the density of the foliage. No humans had been up that way in weeks or maybe even longer.
Not only had the beetle-killed trees assisted the proliferation of pretty petals, but the first two miles of difficult trail hemmed in another six miles of vast valley meadows intermingled with flowing streams. This prime and protected habitat supports a myriad of wildlife. In one meadow, I encountered a massive herd of cow elk with their spotted calves and startled a young mountain lion that was stalking them. The dead trees created an island where wild creatures carried on their lives as nature intended. 
Spruce beetles and other tree-eating bugs are part of nature. In an ecosystem with fewer beetles and healthier trees, trees can actually push the beetles out with sap – known as "pitching out". But nature is out of sync right now and the current beetle infestations in the western US are exasperated by drought and warmer temperatures. Longer summers allow local spruce beetles to complete two reproductive cycles each year instead of just one and winter temperatures haven't been cold enough to kill the beetles. On top of that, drought provides less water to the trees so they can't pitch out the beetles. 
Perhaps you are wondering what you can do to help. We can all start by being patient. The COVID-19 pandemic has reduced the number of trail crews and delayed start dates. This means that some of your favorite trails might not be cleared this year making it difficult to recreate. Some trails may be impassable to stock. Fortunately, in a collaboration with the San Juan National Forest, San Juan Mountains Association will help manage a new backcountry ranger crew made possible by generous donations from the local community. (See the April 2020 "Stewards of the Land Column".) 
Another way that you can help is simply by spreading the word. The space beetles aren't going away. They are munching their way west through the San Juan National Forest. Yes, it can be depressing to see these huge trees die and drastically change some of our favorite places. Yes, it will mean more blocked trails. But it also means more wildflowers and secluded wildlife habitat. Now more than ever, we need to see the bright side of things.
MK Gunn works for the San Juan Mountains Association. In her free time, she seeks out remote places that may or may not contain trails. Email her at MK@sjma.org.