Weminuche Wilderness
Located in Southwest Colorado, the Weminuche Wilderness area (pronounced whem-a-nooch) is the largest Wilderness area in Colorado, spanning 499,771 acres across the San Juan and Rio Grande National Forests. The delightful mountain towns of Durango, Silverton, Pagosa Springs, South Fork and Creede surround and provide access into the wilderness. With an average elevation of 10,000 feet above sea level, the Weminuche is known for its challenging, rugged terrain from the deep Animas River Gorge to the wildflower-filled basins to towering peaks. The Weminuche is home to three of Colorado's "14ers", Mount Eolus (14,083 ft), Sunlight Peak (14,059) and Windom Peak (14,082 ft), as well as multiple peaks over 13,000 ft.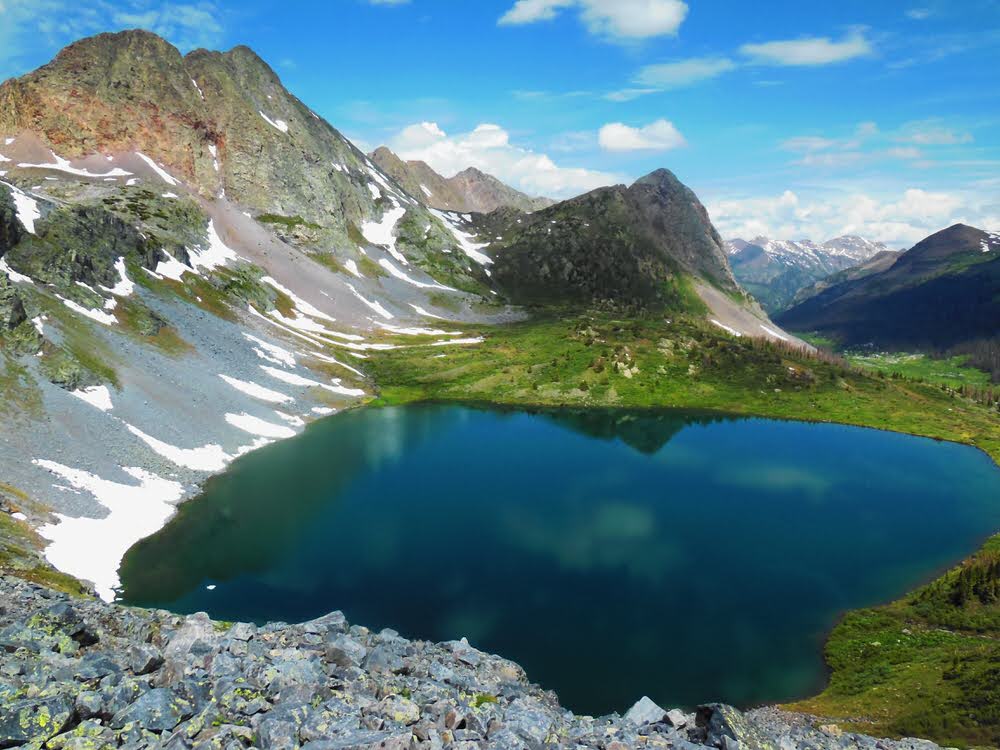 With the continental divide running through the heart of the Weminuche Wilderness, this area is the headwaters for the 5 rivers: Los Pinos (The Pine), Piedra, San Juan  and Animas rivers on the west of the continental divide and the mighty Rio Grande river on the east side. There are 31 trailheads providing several hundred miles of maintained trails, including sections of the Colorado Trail and the Continental Divide Trail. Some of these areas can be accessed via a narrow gauge train that runs between Durango and Silverton. 
Here, Colorado backpacking is at its best – but also increasingly more crowded. Although the Weminuche is known for its rugged terrain, its ecosystems are fragile. As you visit, you will join thousands of others who travel in the Weminuche each year. You can help protect the Wilderness by planning ahead, complying with regulations and leaving no trace. 
Key Areas of the Weminuche
Chicago Basin
Owing to its easy access via the Durango & Silverton Narrow Gauge Railroad, its proximity to three of Colorado's 14-ers, and its scenic beauty, Chicago Basin is a very popular backpacker destination in the Weminuche Wilderness. During its peak period of use (July 4th through Labor Day), Chicago Basin is "crowded" by wilderness standards, and campsites can be hard to find. Each year this area receives about 10,000 visitor use days. If you are planning a trip to the Chicago Basin area during this time, you will have to share your wilderness experience with quite a few other people.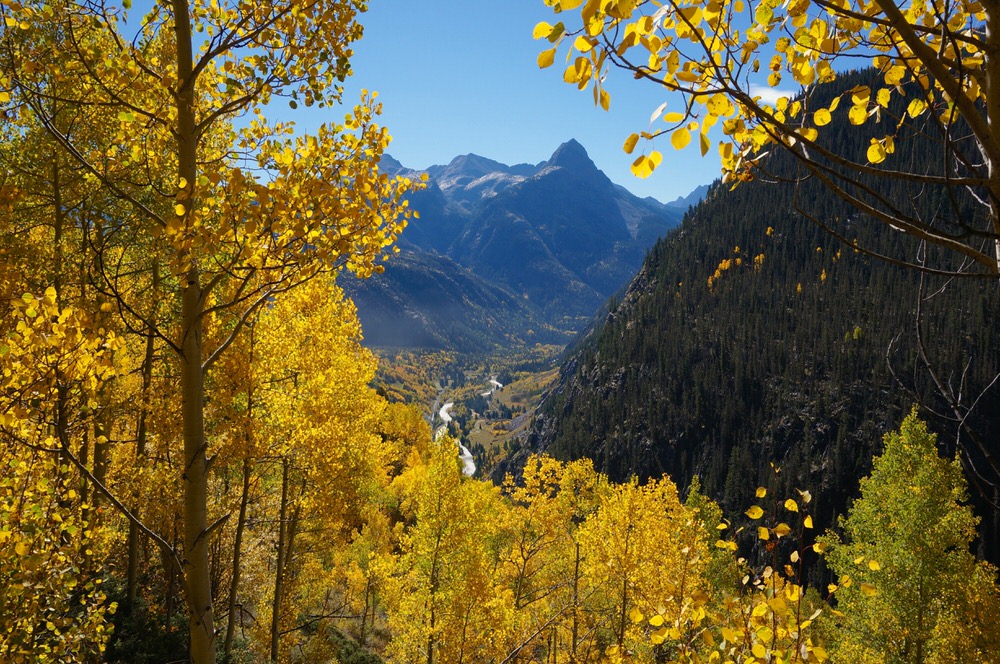 Colorado Trail (Elk Creek)
The Colorado Trail passes through the Weminuche from Stony Pass to Molas Pass as it links 486 miles of trails from Denver to Durango. The Colorado Trail follows a section of the Continental Divide Trail before following Elk Creek to Molas Trails. 
Continental Divide
The Continental Divide Trail traverses more than 3,000 miles from New Mexico to Canada, with more than 80 miles within the Weminuche Wilderness. The trail connects Wolf Creek Pass approximately 30 minutes east of Pagosa Springs, CO to Stoney Pass near Silverton, CO by traveling through the rugged beauty of both the San Juan and Rio Grande National Forests. For more in depth information, check out the Continental Divide Trail Coalition webpage.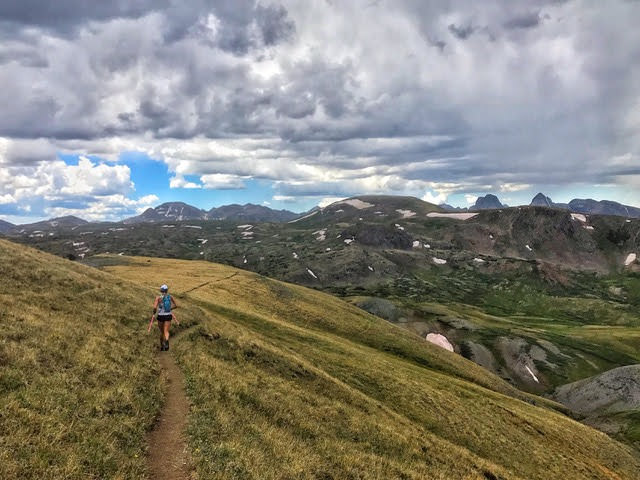 The Weminuche Wilderness area offers a variety of outdoor activities for adventurers of all ages and abilities, from multi day backpacking excursions to day trips on horseback or peaceful mornings with the fly rod. Remember, wilderness areas prohibit mountain bikes as well as motorized vehicles. The San Juan and Rio Grande National Forests maintain hundreds of trails for these activities outside the wilderness boundary.
Wilderness is a place where the imprint of humans is substantially unnoticeable, where natural processes are the primary influencers and human activity is limited to primitive recreation and minimum tools. These special areas require the visitor to be mentally and physically prepared to take nature on its own terms and to be able to travel without mechanical transport. As a visitor, you must be able to exist with what you can take in (and out) and rely on your own outdoor skills.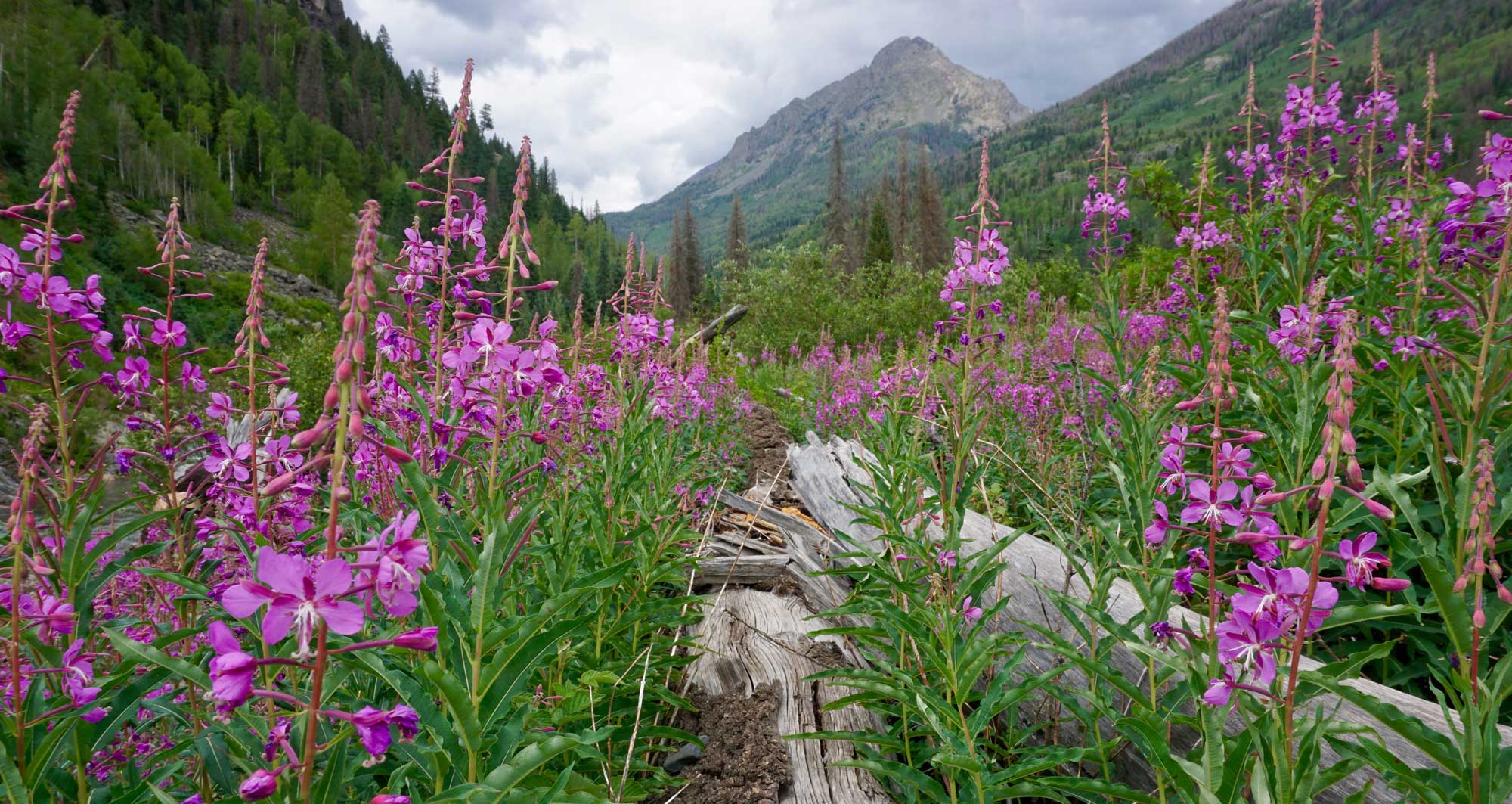 When to Go
The best time to visit the Weminuche is early July through mid-September. At the higher elevations, winter snow can last until early or even mid-July. Summer brings the certainty of afternoon thunderstorms with increased rain and storms during the monsoon season. Be aware that as temperatures increase, snowmelt swells every creek and river making crossing challenging or even impossible.  High waters can also be the result of afternoon thunderstorms, so be prepared. 
Please remember, Colorado weather can change in an instant, so always be prepared for heat or cold, rain or snow!
Altitude – Elevations in the Weminuche range from 7,000 to 14,000 feet. To prevent altitude sickness, pace yourself, drink water, and eat snacks. If experiencing any symptoms which include headache, loss of appetite, and weakness or drowsiness, descend quickly. If symptoms persist, seek medical aid.
Regulations and Recommended Practices
Plan Ahead and Prepare

Camp on Durable Surfaces 

Dispose of Waste Properly 

Leave What You Find 

Minimize Campfire Impacts 

Respect Wildlife 

Be Considerate of Other Visitors 
Outdoor Recreational Activities in Weminuche
Whether you are a peak bagger, fly fisherman, avid backpacker, nature lover or all of the above, the Weminuche is a dream-come-true. A trip to Chicago Basin provides the opportunity to climb three of Colorado's 14ers – Mt. Eolus, Sunlight Peak and Windom Peak. Several hundred miles of hiking trails provide endless options for multi-day backpacking trips that promise high mountain passes, beautiful, flower-filled basins and views as far as the eye can see.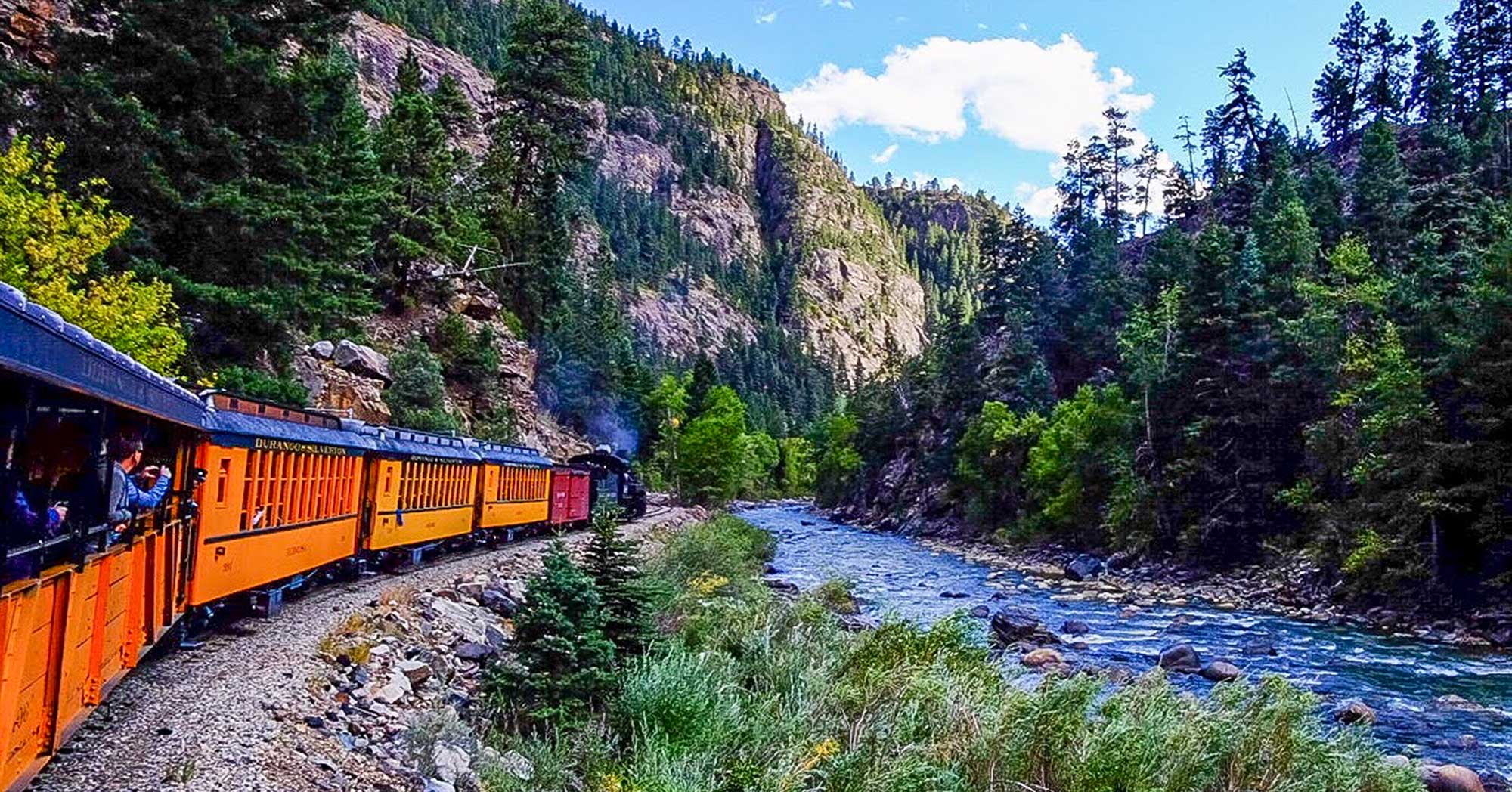 With its jagged peaks, mountain sides blanketed with wildflowers, cascading waterfalls and endless creeks, streams and rivers filled with fish, the Weminuche Wilderness is a dream-come-true for backpackers and mountaineers. Throw in access via an old steam-engine, narrow-gauge train and it becomes clear why this area grows in popularity every year. We've chosen a couple more popular routes to highlight below, but if you study a map, you will see the endless backpacking trails and route possibilities within the Weminuche.
Elk Park/Needleton Loop: Thanks to the Durango & Silverton Narrow Gauge Railroad, this is the most popular backpacking loop in the Weminuche. Elk Park Train Stop to Needleton Train Stop is a 36 mile moderately trafficked point-to-point trail that features beautiful wild flowers.
Pine River to Emerald Lake: The Pine River alternates between meadows and canyon, frequently flowing peacefully on the flat valley floor. The boundary of the Weminuche Wilderness is 2.7 miles up the trail, the fishing is fantastic. The turnoff to Emerald Lake is at mile 6.3 (Trail #528).
Needle Creek to Chicago Basin: Accessed from the Needleton Train Stop or the Animas River Trail, this well-maintained trail climbs steadily up Needle Creek for approximately 5 miles to Chicago Basin. Check out our trail access page for more information.
Knowing there are many more trails within the Weminuche, we've chosen to highlight the most popular trails, all of which are located on the San Juan National Forest.
Molas Trail to Animas River
From Highway 550, the Molas Trail winds its way down 4 miles to the Animas River and the entrance to the Weminuche. Another mile leads you to the junction with the Elk Park Train Stop spur. From there, the Elk Creek Trail heads 9 miles though the Weminuche to a junction with the Continental Divide trail, past iconic peaks of the Grenadier Range including Arrow, Vestal, and the Trinity Peaks. The access to these peaks and the proximity to the train stop make Elk Creek one of the most heavily used trails in the entire Weminuche Wilderness.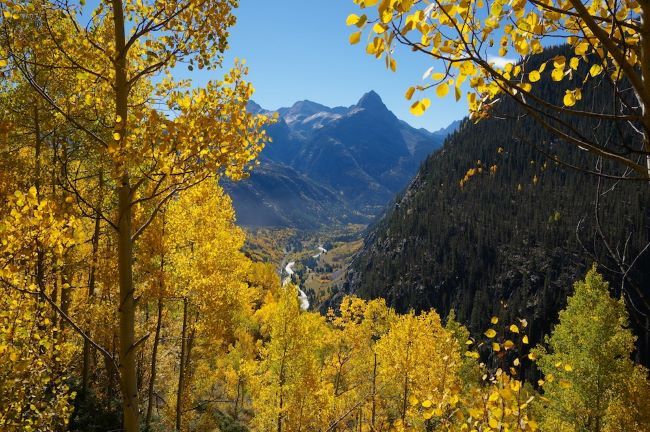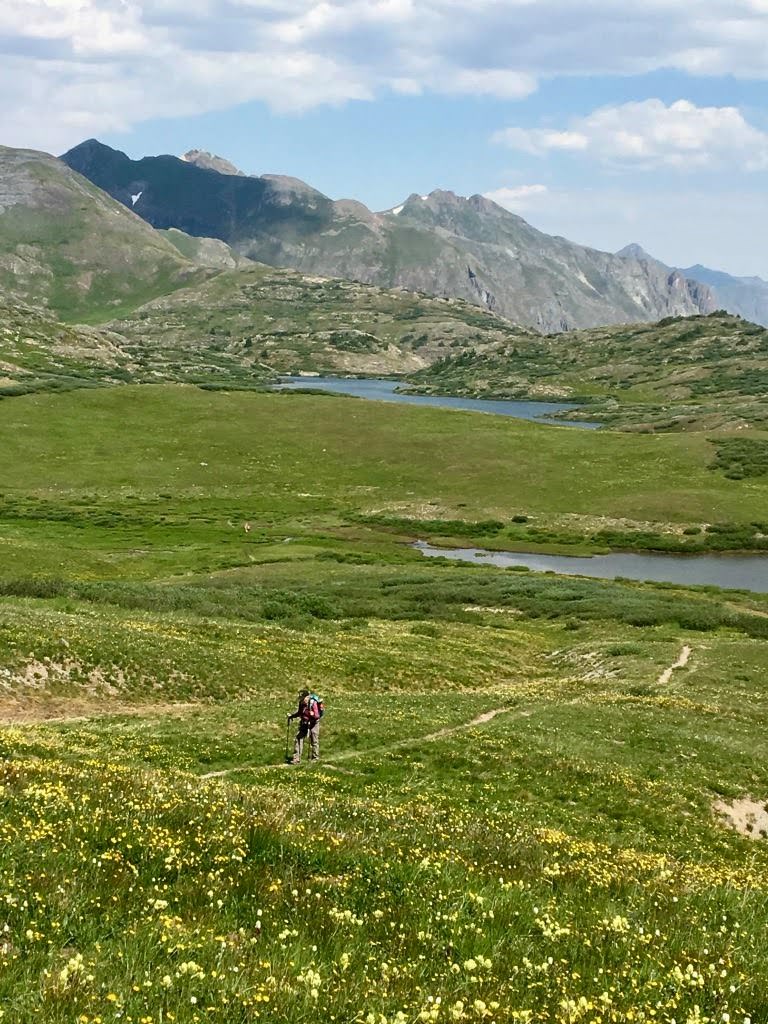 Highland Mary
This popular trail leads to beautiful, high subalpine lakes nestled meadows blanketed with wildflowers in late summer with sweeping views of the majestic Grenadier Range. The trail is approximately 3 miles, one way, but can be made into a 7.8 mile loop via a segment of the Continental Divide Trail to Cunningham Gulch Trail. The Highland Mary Lakes are rated fair for rainbow, cutthroat, and brook trout, but keep in mind, like most subalpine lakes, tend to remain frozen until summer.
Purgatory Flats
Purgatory Flats trail heads straight down a series of switchbacks through a forest filled with aspen and xxx with the occasional view of the surrounding peaks (Twilights and Spud Mountain). At approximately 1.5 miles, the trail reaches Purgatory Flats, a wide open area along Cascade Creek. Continue another 2.5 miles to reach the junction with the Animas River and the Animas River Trail.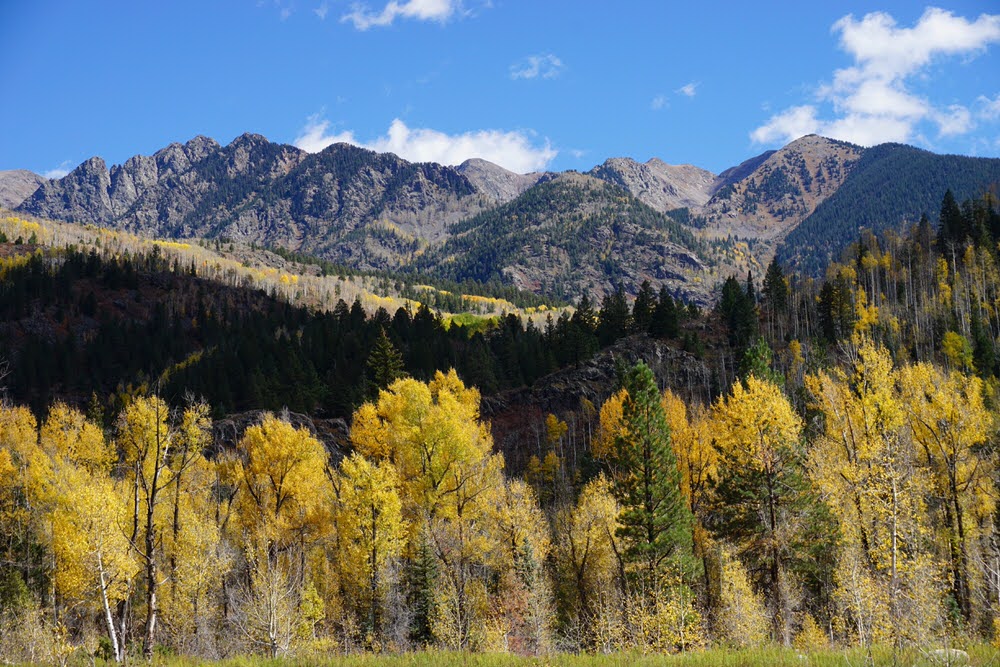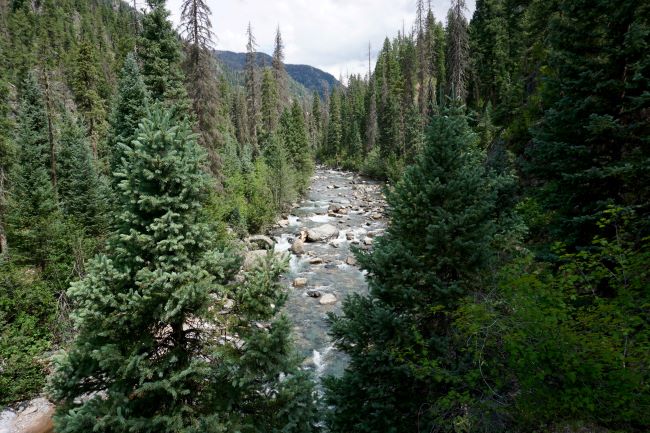 Vallecito Trail
This 19-mile trail parallels the beautiful Vallecito Creek through the heart of the Weminuche Wilderness. The trail begins at the southern end of the Weminuche and travels north until it reaches Hunchback Pass (12,400 feet). The beginning of the trail makes  a very enjoyable day hike (great for kids) through a deep canyon filled with ponderosa pine forest, aspen and conifers. There are 3 bridges at around 3 miles, 5.5 miles and 7 miles. The third bridge is gone due to an avalanche in the winter of 2004-2005 and there are no plans at this time to replace the bridge. Hikers must ford the creek so prepare to get your feet wet. Vallecito Creek is challenging to ford, and is especially dangerous during the spring runoff (mid May through Mid June) but also prepare for afternoon thunderstorms throughout the summer.
Due to the popularity of the Weminuche Wilderness, it is important to choose your camp wisely. 
Check

Weminuche Wilderness site specific regulations

for areas you plan to visit (Chicago Basin, Emerald Lake, Vestal Basin, etc).

In order to protect the watershed, camping is not permitted within 100 feet (approximately 35 adult steps) of streams or lakes, except as designated or posted. 

Camp on durable surfaces,

# 2 of the 7 Leave No Trace principles

. 

Disposal of human waste and wash water is prohibited within 100 feet  (35 adult steps) of any water source.

Pack out and properly dispose of all trash. Do not bury it.

Know what fire restrictions are in effect for San Juan and/or the Rio Grande National Forest. 

Pets must be under voice control or physical restraint.

Recreational livestock are prohibited from being restrained within 100′ (35 adult steps) of water. All livestock feed must be certified weed free.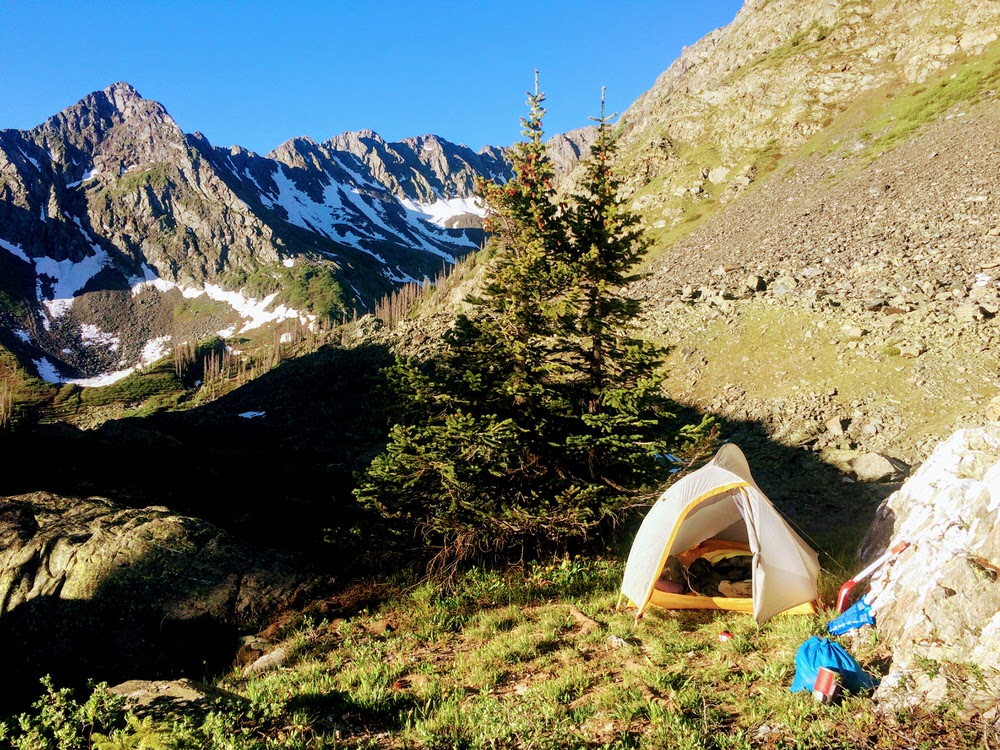 Weminuche Conservation and Land Stewardship
History of Protection
The Weminuche, named after one of the seven bands of Ute people who made the Southwest Colorado Rockies their home, was designated by Congress in 1975, and expanded by the Colorado Wilderness Acts of 1980 and 1993. 
As more and more Americans head to the backcountry, the fragile high-alpine environments of the Weminuche face numerous threats. Increasing numbers of visitors are disturbing wildlife, impacting trails, polluting creeks and streams, and leaving all kinds of waste behind.  Spruce beetle infestations and avalanche falls have led to thousands of downed trees that block trail access and affect local ecosystems.
Support SJMA's Weminuche Conservation Efforts
There are many different ways to get involved with our stewardship efforts in the Weminuche Wilderness. Whether you want to be involved in a long term effort like our volunteer program, join for a single-day campsite clean up or donate to SJMA's Weminuche Wilderness Stewardship Fund.
Weminuche Wilderness Stewardship Fund: In 2019, SJMA launched the Weminuche Wilderness Stewardship Fund  with the goal of empowering the local community to give back to our most treasured wilderness.  Donations to this fund go directly to educate wilderness visitors and implement on-the-ground stewardship projects in the Weminuche.  
Supported by the Weminuche Wilderness Stewardship Fund, the San Juan Wilderness Stewardship Crew provides a "boots on the ground" education and stewardship presence in the wilderness to improve access, restore damage, and enhance the visitor experience.
The fund also supports SJMA's volunteer ranger program, which equips and trains local volunteers, empowering them to give back to the Weminuche. In 2020, SJMA wilderness volunteers rose to the challenge of skyrocketing visitation by patrolling busy trails to promote Leave No Trace principles, distribute REStop bags to prevent human waste from polluting the backcountry, clean graffiti from rocks, and to remove trash from our trails. 
The Weminuche Wilderness faces a lot of challenges and if we as a community don't stand up for the Weminuche, nobody will.  We know that by working together, doing the hard work on the ground, and the slow work of building a wilderness conservation ethic, that we can protect the amazing wild character of the Weminuche for ourselves and for future generations.