Chicago Basin Access and Trail Information
Train Access to Needle Creek Trail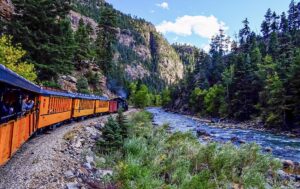 Chicago Basin can be accessed by riding the Durango & Silverton Narrow Gauge Railroad and getting off at Needleton. For schedules, fares and reservations visit the Durango & Silverton Narrow Gauge Railroad website or call 1-888-TRAIN-07 (1-888-872-4607), local 247-2733.
When you board the train, you need to drop off your backpack at the baggage car behind the engine, and then go to your assigned seat in a different car.
The train stop at Needleton is very brief, so expect yourself and your backpack to be unloaded (or loaded) very quickly.
The Needleton train stop area and the first ½ mile of the trail going south to the Needle Creek Trailhead is on private lands. This connecting trail exists because of a cooperative agreement with the landowners. Please do not trespass on this private property! Also note that there are no toilet facilities at Needleton.
Trail Access to Needle Creek Trail
Chicago Basin can be reached by trails from several directions. Coming in by trail will lengthen your trip by one or two days each way. Consult guidebooks and maps and carefully plan your route before you arrive.
Purgatory Flats Trailhead: Access from the northwest 
Vallecito Creek Trail: Access from the east

Vallecito Creek Trail (#529) – approximately 8.5 miles to Johnson Creek, 2000 ft ascent

Note: On the Vallecito Trail, the third bridge (counting from the South) across Vallecito Creek is out due to an avalanche in the winter of 2004-2005. The avalanche debris was cleared from the trail in fall 2007. There are no plans at this time to replace the bridge, so it is necessary for hikers to ford the creek. Vallecito Creek can be challenging to ford, and is especially dangerous during the spring runoff (mid May through Mid June).

Needle/Johnson Creek Trail (#504) – approximately 9 miles to Chicago Basin, 3800 ft ascent, 1700 ft descent
Needle Creek Trail Description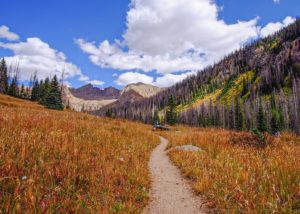 The Needle Creek Trailhead is a ½ mile walk south from the train stop. When you get to the trailhead, be sure to sign the register and read the information posted. The well-maintained Needle Creek Trail climbs steadily up Needle Creek to Chicago Basin. Most people arriving by train (around 11 AM when coming from Durango) hike the 6 miles to the Basin the same day, arriving in late afternoon. There are a number of stream-side sites along the first 4 miles of the trail. The ones on the creek side are not legal camps because they are not 100 feet from water. Legal sites along the first 4 miles are limited in number, and are on the left (north) side of the trail.  Wilderness rangers frequently patrol the trail, and will ask you to move if they find you camping in an illegal site. Hike approximately 5 miles to where the valley becomes more gentle and wider, and there are better campsites to be found on both sides of the trail.