SJMA Job Opportunities
San Juan Mountains Association is a rewarding place to work filled with people who care deeply about the lands that surround us. Our SJMA team works together with our dedicated volunteers and community to turn our collective passion for Southwest Colorado's public lands into actions that help protect these beautiful, wild places. Join us!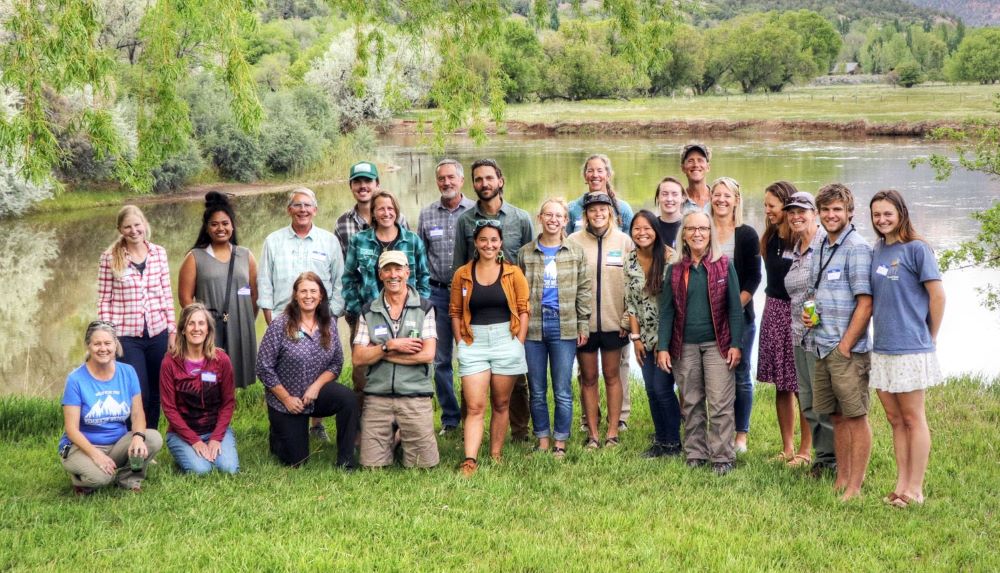 There are currently no part-time positions available.
There are currently no part-time positions available.
Wilderness Stewardship Crew Member
Do you love wilderness, backpacking, and camping in the mountains? San Juan Mountains Association Wilderness Stewardship Crew Members operate under the supervision of a Crew Leader as a 4 person team in rugged, remote, and beautiful backcountry  wilderness areas in Southwest Colorado. This position entails significant backpacking with tools and equipment to many high elevation wilderness areas in a variety of weather conditions. The crew performs wilderness monitoring, makes public contacts, conducts trail maintenance, clears trails of downed trees with crosscut saws. The Wilderness Stewardship Crew will conduct a variety of backcountry wilderness projects under the supervision/guidance of a SJMA crew leader and in partnership with Rio Grande National Forest staff. Crew Members will receive a broad spectrum of relevant training and will end the season with a range of hands-on wilderness stewardship experience.
Location: SJMA is housed in the San Juan Public Lands Center In Durango, Colorado, and these positions will be primarily field based. Work is performed in remote backcountry locations (i.e. Weminuche Wilderness) for multiple days at a time.
Season: SJMA's field season runs from mid June – mid August
Hours: Full time, 40 hour per week position (non- exempt, full-time); Generally follow a four-day on, three-day off work schedule, with crew working 10 hour days. A limited number of eight- day hitches may be required to access remote project locations.
Those interested in the position are asked to email a cover letter and resume in one pdf file with title " Crew Member Application" to jobs@sjma.org. Application deadline is June 5, 2023.
Dolores River Patrol Education Intern
BLM Tres Rios/CANM and SJMA seek to hire 2 interns to serve as river patrol-education interns as the main point of contact to provide education and safety messages along the Dolores River during the 2023 Dolores River Season. Interns will support river-related projects by providing: public contact and safety, education and visitor use monitoring of the Dolores River Corridor and Wilderness Study Areas; providing Leave No Trace education to public, completing BLM monitoring forms, conduct maintenance projects such as sign installation and trash clean-up, using a variety of hand tools, moving rocks and vegetation, clearing campsites, carrying heavy equipment, rigging and rowing boats, duckies, or canoes, and working in steep rugged terrain, all in a variety of weather conditions. Work may involve camping in remote locations and emergency response.
Location: Dolores River Boat Ramps and access areas including but not limited to: Bradfield Recreation Area, Dove Creek Pump Station, Slickrock, Big Gypsum, Bedrock
Full-time position: Mid-May through Mid-July
Hours: 4 ten-hour days, 3 days off / may work weekends / flexible schedule required
Those interested in the position are asked to submit a cover letter and resume (including river resume or specific sections of rivers run as captain or guide) to Mike Wight mwight@sjma.org.  These positions are open until filled.
Rio Grande Seasonal Forestry Technician(s)
The San Juan Mountains Association (SJMA) is seeking two (2) Rio Grande Seasonal Forestry Technicians to serve on a Forest Service unit performing a variety of duties in support of the Rio Grande National Forest's trails program. The technicians will provide forest recreation information and maintain recreation areas for the U.S. Forest Service, Saguache District. This person will work with the Rio Grande National Forest to maintain developed and dispersed recreation areas and provide public information in a highly professional and courteous manner. This position will work under the supervision of the Forest Service on a daily basis.
Location: These positions will be based out of the Rio Grande National Forest (RGNF) Saguache Ranger District and will be 100% in person or in the field.
Full-time position: Starting as early as May 8, 2023 – September 15, 2023
Hours: Maxi-flex with hours that may consist of a 7:00am -3:30pm (5 Day/8 Hour) or 7:00am – 5:30pm (4 day/10 hour schedule). The week may consist of 5 days, with 2 consecutive days off or 4 days, with 3 consecutive days off. 40hr/wk or 80 hr/pay period and may require some flexibility to work on weekends to assist with volunteer activities.
Those interested in the position are asked to submit a resume, letter of interest, and professional references, that demonstrate their qualifications and interest in the position. The cover letter should succinctly describe the applicant's goals, suitability for the position, and other pertinent facts that may not appear in the resume. Please send application package to jobs@sjma.org.
Join SJMA's Education team to design and deliver high quality, standards based outdoor environmental education to Southwest Colorado. We work closely with our interns to create an experience which aligns with their post-internship goals, be that curriculum design, in the field teaching, program management, etc. This is a unique opportunity for applicants to help educate and inspire the next generation. The intern will conduct a variety of projects under the supervision of the Education Director and Curriculum Coordinator. To learn more about the education programs visit, sjma.org/learn.
This is a life-changing opportunity for the right applicant who will make an immediate impact on the youth in our community and build lifelong memories in some of Colorado's most spectacular landscapes. 
To apply please send a resume and letter of interest to astimax@sjma.org. Internships occur in fall, spring, and summer semesters. Applications are due November 1st for spring internships and March 1st for summer and fall internships.