Teacher Workshops
Forests to Faucets Workshop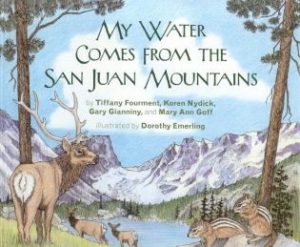 Join SJMA, Mountain Studies Institute, Water Information Program, and Fort Lewis College for two days of hands-on exploration of our local watersheds. Designed for local teachers' to teach their students about where water comes from – because it doesn't just come from the faucet. Curriculum guide is based on the children's book "My Water Comes from the San Juan Mountains".
Dates: August 3-4, 2020
Location: Pagosa Springs
Program includes:
Place Based learning
Guest speakers
Hands-on field experience in the San Juan River watershed.
Travel reimbursement for Montezuma County teachers
Social Distance Friendly
Includes free teaching kit and curriculum guide fro your school
Optional 1 credit from Adams State University ($55 fee) upon completion of course and homework
Certificate for 16 contact hours
Register at: http://www.mountainstudies.org/events//forests-to-faucets
If you are a teacher and would like us to visit you and your classroom, please contact one of the following individuals:
For Cortez, Dolores, Mancos, Durango, Bayfield, Ignacio Schools – MK Gunn
For Pagosa Springs, Silverton, Telluride Schools – Amanda Kuenzi
STORY MAPS
Click for a guided visual tour of each watershed!
Additional Workshops
SJMA offers teacher workshops on a variety of topics, including:
Workshops on other topics may also be available.  If you are interested in having a workshop in your area, contact MK Gunn.