Christmas Trees for Conservation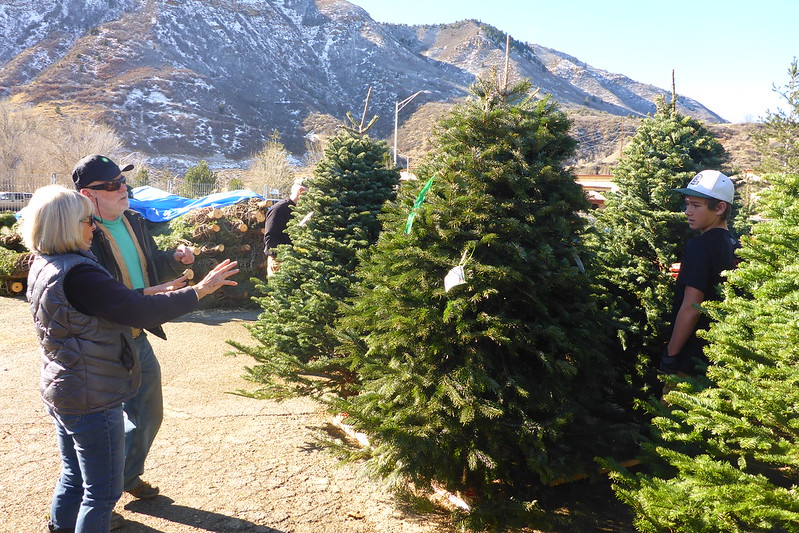 Improve forest health, support stewardship and conservation education and shop locally at SJMA's Christmas Trees for Conservation Lot! Christmas Trees for Conservation is this SJMA's biggest fundraiser of the year, popular with our volunteers and customers. Each year we begin selling both local white fir (cut from the San Juan National Forest) and Wisconsin balsam first the day after Thanksgiving. Volunteers donate hundreds of hours to help cut trees, set up the lot, and sell the trees.
Once again, SJMA will have a pop-up-shop alongside the tree sales. We will have some fun stocking stuffers and gifts for everyone in the family.
Shop local and support stewardship and conservation education on Southwest Colorado's public lands!
Christmas Tree Lot Details
Dates: Friday November 24, 2023 – Friday December 15, 2023 (or until all trees sell out)
Hours:  Sundays – Fridays from 12:00pm – 6:00pm; Saturdays from 9:00am – 6:00pm
Main Location: At the corner of Camino del Rio and College Avenue (Train parking lot). This location made possible by a generous partnership with the Durango & Silverton Narrow Gauge Railroad and the City of Durango.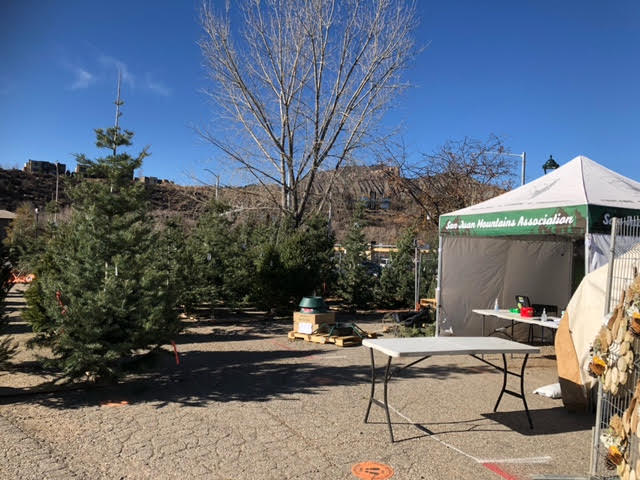 SJMA sells both freshly cut local white fir and sustainably farmed balsam trees from Wisconsin. All proceeds from your tree purchase go towards public lands stewardship programs and conservation education.
Local White Fir Trees are 100% wild grown right here in the San Juan National Forest which means an almost nonexistent transportation carbon footprint.  There are no pesticides, fertilizers, or irrigation used. Mother nature is the only one that tends to these. These trees can be anywhere from 10 to 30 years old. A large group of SJMA volunteers goes into the forest and cuts these trees from a designated area. Thank you, volunteers!
Why Cut White Fir? Thinning white fir trees improves forest health by reducing the risk of catastrophic wildfire. While some fire is very helpful and necessary for the forest, young white fir can act as "ladder fuel" which means they allow fire to climb from the underbrush to the crowns of the tallest trees. Crown fires can spread more quickly and are harder to control. SJMA cuts white fir trees from areas that the San Juan National Forest identifies as benefiting the most from thinning.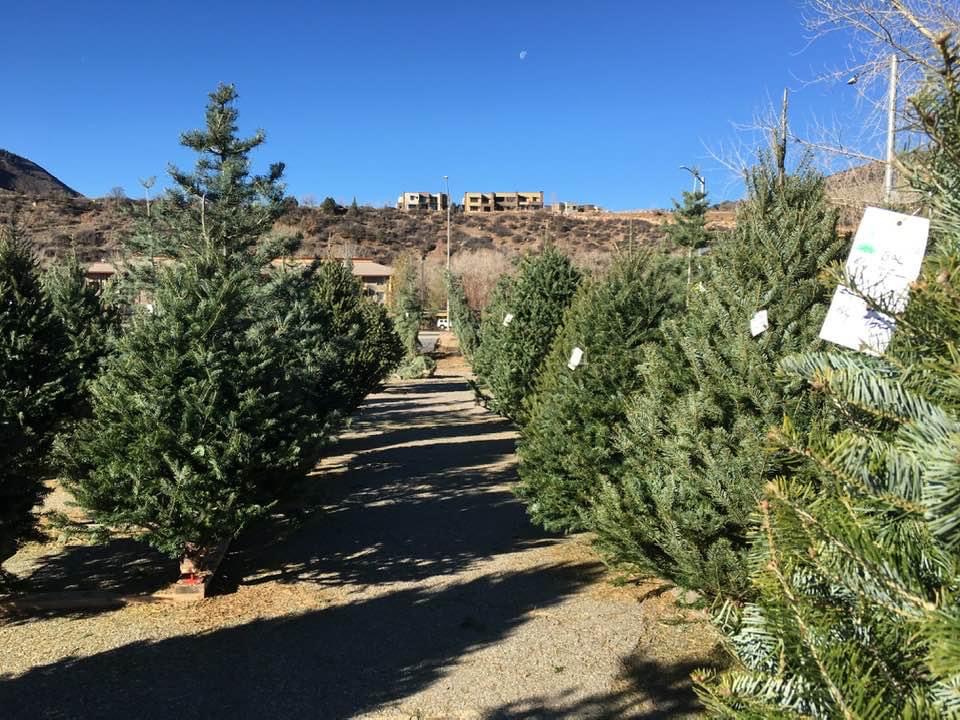 Farmed Balsam Fir Trees: The ideal growing conditions and yearly fertilization allow the balsam trees to reach a perfect shape and size in just six to ten years. While the trees are growing, they provide habitat for birds, squirrels, and other woodland creatures. We have often found bird nests in these trees and every now and then a mouse makes the long trip from Wisconsin!
Give the gift of time to your public lands this holiday season at SJMAs biggest fundraiser of the year! Helping us harvest local white firs, set up the tree lot and/or volunteering for a 3 hour shift selling trees is a wonderful way to feel connected to the community during the holiday season! It is a terrific opportunity for service groups, social organizations and individuals to support their local public lands.
If you are interested in volunteering, learn more at SJMA's Volunteer Opportunities.