After-School Programs in Durango
San Juan Science Ramblers, Grades 1 - 6
Too much screen time? Get your kids outside with SJMA's new after-school program, the San Juan Science Ramblers.
Kids, grades 1 – 6, will be led on after school science- based hiking adventures with our amazing education staff and volunteers. The number of kids will be limited to 13 per session. This a great option for kids who love nature and science. Each month will have a theme focused on outdoor exploration and learning.
COVID Modifications
Participants will be asked to maintain 6 ft. of social distancing when reasonable, wear face-masks, and hand-wash/sanitize frequently
No shared food or communal eating spaces
Families will be expected to self-monitor for COVID-19 symptoms
Daily temperature checks will be conducted by program counselors

We ask that parents please have conversations with their kids about social distancing, using the restroom outside, and the expectation of long(ish) periods of physical activity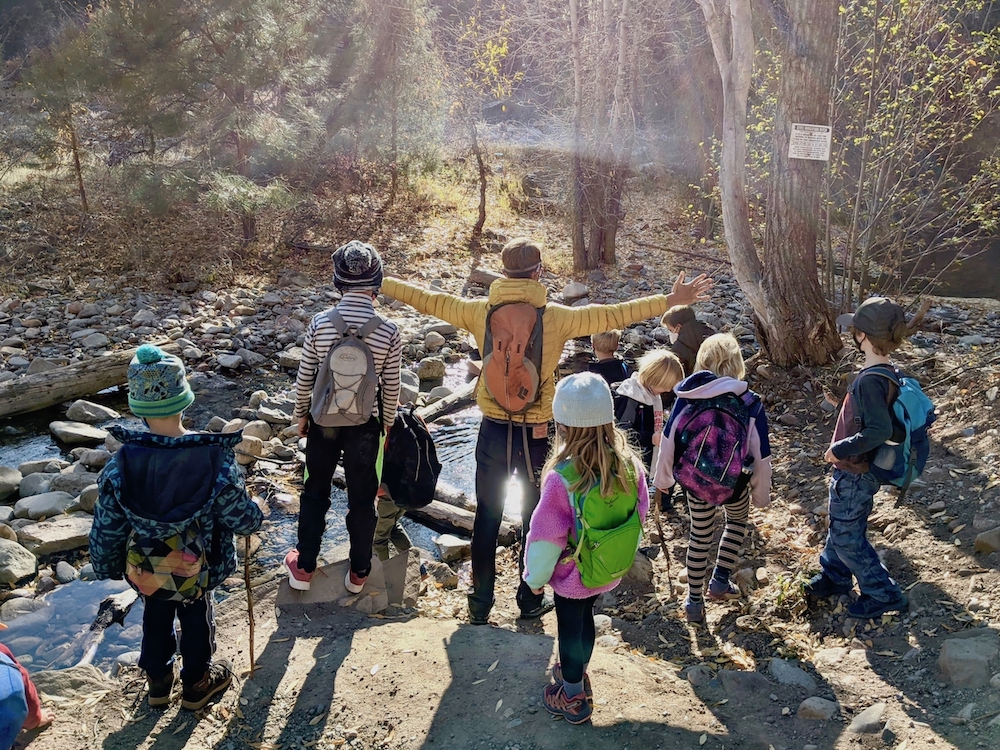 Thank you for your interest in our after-school San Juan Science Ramblers. Unfortunately, the programs this spring are full.
April Dates
Session 1: Tuesdays, April 6, 13, 20 and 27
Session 2: Wednesday, April 7, 14, 21 and 28
April Theme & Locations
Storytelling – One of the most powerful things that help to nurture creativity and meaning with our surroundings is through stories.
Week 1: Caterpillars & Butterflies at

Horse Gulch TH

Week 2: Storytelling via skits at Dalla Mountain Park, Sailing Hawks TH

Week 3: Earth week in honor of Earth Day (April 22) at

Falls Creek TH

Week 4: Short stories at

Junction Creek TH –

Students will create their own stories of their surroundings which may include who has lived here before, how they lived and their rituals/ceremonies.
May Dates
Session 3: Tuesdays, May 4, 11, 18 and 25
Session 4: Wednesday, May 5, 12, 19, 26
May Theme & Location
Creative Beginnings
Week 1: Bird day at Oxbow Park and Preserve – Celebrate National Bird Day (may 4th) by learning about the different types of local birds, what they eat, how they hunt  and other fun behaviors.
Week 2: All about flowers at Junction Creek TH – Identify plants/flowers. Learn about pollination, Hawaii's Lei Day, and how to make leis from local flowers and plants.
Week 3: Endangered species at Falls Creek TH – In honor of National Endangered Species Day (May 21), learn what "endangered species" mean, why it is important to protect local species, as well as identify ways in to prevent our local species from becoming endangered.
Week 4: Scavenger Hunt at Overend Mountain Park, Leyden St TH
Drop Off Time & Location
SJMA Transportation: 3:00 pm – 5:45 pm at Park Elementary
Parent Transportation: 3:15 pm – 5:30 pm at In-Town Durango Trailhead
Cost
$80 with 10% discount for SJMA Member
If you are in need of financial assistance,  please submit our Camp Scholarship Form.
Registration
After-school programming is full for the month of May.
Each child must be registered separately. After you enter your student information, you will be able to choose the after-school sessions you'd like them to attend. You must complete the registration for the first child, including payment, before registering your second child. If you have registration questions, check out our Registration Flow Chart.