Outdoor Explorers Program for Homeschoolers
For the first time ever, SJMA is pairing up with Alpine International Preparatory Academy (AIPA) to offer a weekly program for our homeschool families with elementary-aged students starting in September 2023 and lasting through May 2024. This program will move through different environmental topics and outdoor skills as the seasons progress.
SJMA is offering two sessions:
1) Grades K-2
2) Grades 3-5
When: Thursdays from 9 am – 3:30pm
Max Attendees per Session: 18
Cost: Free for homeschool students unless they are receiving state funds for other programs.
Learn More: Check out the Outdoor Explorers Presentation given to the attendees of the parent info meeting.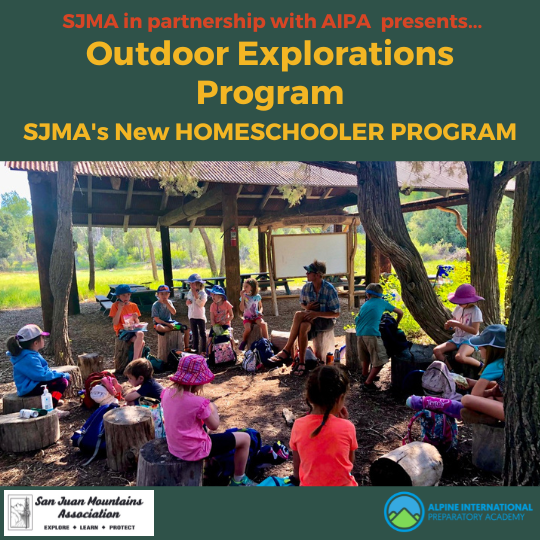 Sample Daily Schedule
8:00 am – Drop off for those being transported in SJMA van
8:15 am –  Load-up and head to the day's location
8:45 am – Van riders arrive & Parent drop off of those not in the van
9:00 am – Morning circle
9:20 am – Morning lesson/ activity part 1
10:10 am – Snack
10:30 am – Morning lesson/ activity part 2
12:00 pm – Lunch
12:25 pm – Free play
12:40 pm – Group game
1:10 pm – Afternoon electives (nature journaling, themed game or craft, self-exploration, hike, etc.)
2:30 pm – Afternoon circle
3:00 pm – Pick-up at location then head back to Durango
4:00 pm – Pick-up in Durango
Monthly Topics (subject to change)
September: Leave no Trace
October: Nature's Bounty
November: Rock Cycle
December: Fire and water
January: Surviving and thriving in Winter
February: Snow Science
March: Weather and Climate
April: Web of Life
May: Biodiversity