Reduce Your Impact with Simple Actions
"When we try to pick out anything by itself, we find it hitched to everything else in the Universe." – John Muir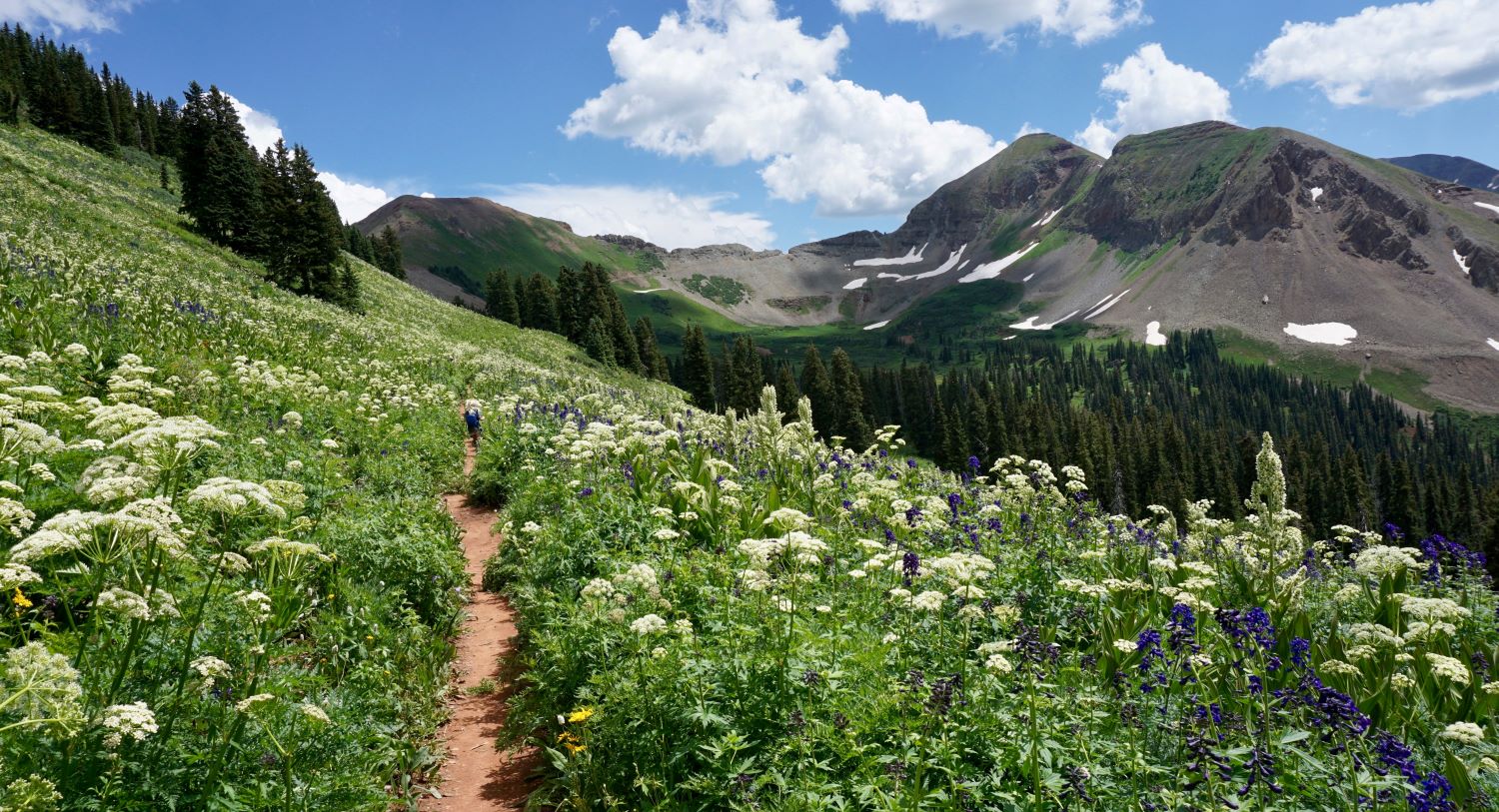 The San Juan Mountains are home to incredible beauty, spectacular wildlife, and vitally important waterways. These natural wonders are available to everyone through our public lands so let's come together to reduce our environmental impact and ensure their health and beauty for all future generations.
As more and more people choose to hike, bike, ride OHVs, explore, and camp on these public lands, lessening our impact is becoming increasingly important. We can all do this by being aware of how we're interacting with the environment and making simple yet meaningful decisions to minimize our impact on these gorgeous and important lands.
DID YOU KNOW? Elevations in the San Juan Mountains range from 7,000-14,000 feet. Altitude sickness, dehydration, and weather can quickly become severe. At the higher elevations, winter snow can last until early or even mid-July. Summer brings the certainty of afternoon thunderstorms with increased rain and lightning during monsoon season. Whether it is snowmelt from rising temperatures or rain from afternoon thunderstorms, every creek and river swells making crossing challenging or even impossible.
WHAT CAN WE DO? Bring plenty of water in your reusable water bottle and perhaps a 'life straw' in case of emergencies. Know the weather and your limits! Colorado weather can change in an instant, so pack layers for heat and cold, rain and snow, no matter how sunny things look when you start. Review what to do during a lightning storm. And, don't forget to sign up for your Colorado Search & Rescue Card.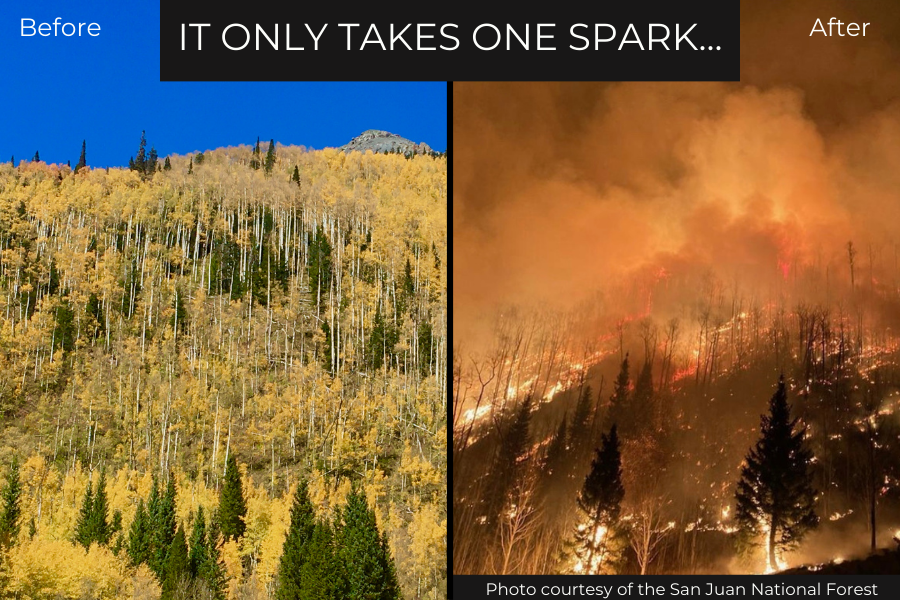 DID YOU KNOW? Southwest Colorado is in a long-term drought. Based on conditions (such as wind, humidity and soil moisture) fire danger can elevate quickly. 
WHAT CAN WE DO? Know and respect current fire restrictions or fire bans (call 970-247-4874). If campfires are allowed, make sure they are out (and cold) before leaving them unattended. Memorize the 'campfire soup' recipe before you go. Check local Fire Restrictions & Activity before you go:
DID YOU KNOW? National Forests have rules and regulations about where you can disperse camp and in some rare cases, where you are not allowed to have any campfires (Chicago Basin area, for example).
WHAT CAN WE DO? Make sure you read through the National Forest rules and regulations before you start your adventures!
DID YOU KNOW? A widened trail, trail braids and social trails impact ecosystems by reducing the growth of plants and increasing erosion while also creating an eye sore. To avoid wet areas, trail users sometimes walk along the edge of the trail creating widened trails or walk around creating trail braiding. Trail braiding also occurs when users avoid a downed tree with some going on one side of the tree and others, the other side.
WHAT CAN WE DO? Check trail conditions before you go, especially in spring and early summer. After a wet winter, trails above tree-line still have snowfields well into July. During mud season, wear proper footwear. If you find yourself on a muddy trail, stay on the trail and walk right through the middle to avoid widening. Please note that mountain bikes have a higher negative impact on muddy trails. Contact Visitor Centers to get up-to-date trail conditions, and consider a back up plans for dry/lower elevation routes.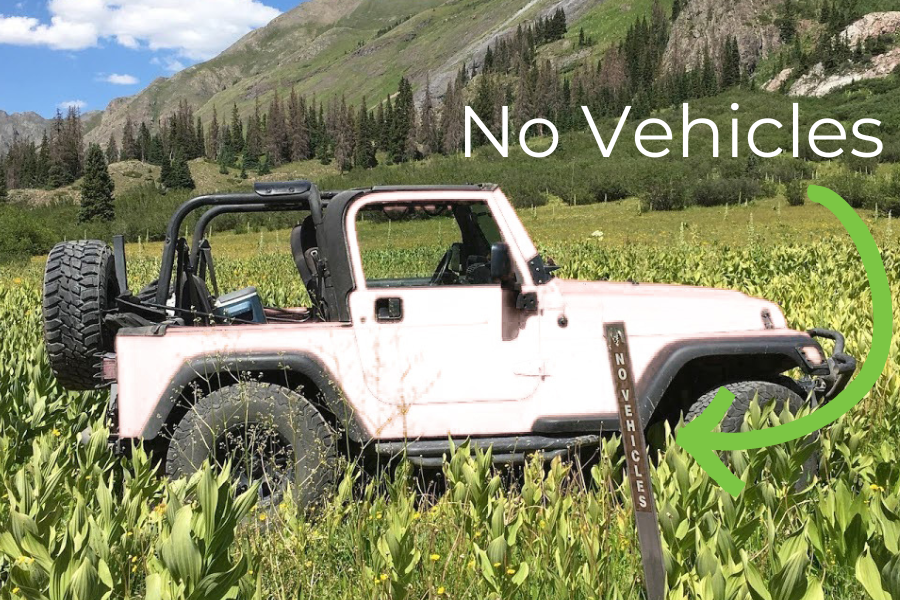 DID YOU KNOW? Plants in the San Juans work hard! It may take a decade or more for a plant to mature. Tundra in the San Juans is a fragile ecosystem, existing only above 11,000 feet, where 6″ plants may be more than 100 years old.
WHAT CAN WE DO? Stay on designated trails and motorized routes. Cutting switchbacks can cause hillside erosion. If you have to leave the trail while hiking, do your best to step on durable surfaces – rock, sand, gravel and snow.
Trash Services Not Included
DID YOU KNOW? Human and pet waste is not only an eyesore, but can contaminate water sources. Buried TP is often dug up by wildlife, spreading contamination further.
WHAT CAN WE DO? For human waste, use a wag bag or dig a cathole 6″ deep at least 100 feet from any water source (~40 adult steps). Pack out all trash, including toilet paper and doggie bags. Never bury your toilet paper.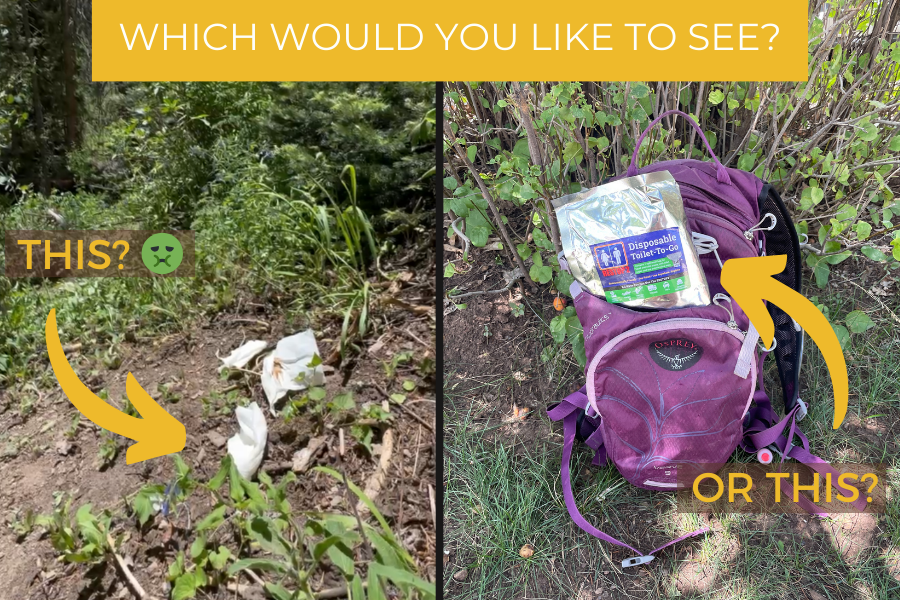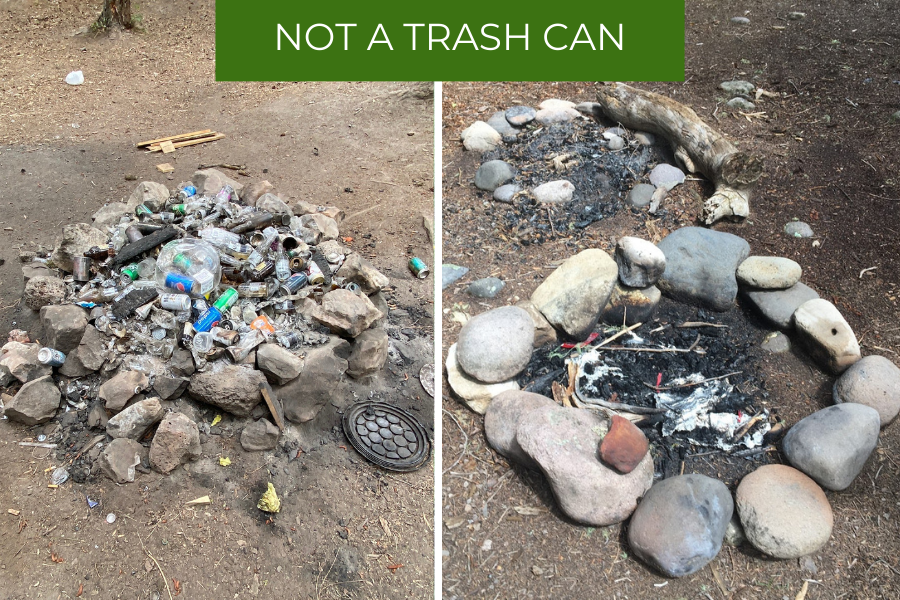 DID YOU KNOW? Orange peels can take as long as two years to decompose. Folks often believe that "natural trash" (orange peels, banana peels, apple cores, etc.) is okay to leave behind when outside, but not only is it disturbing to come across, but these types of trash attract wildlife to areas with human activity, affecting their health and habits. And who wants to come across a firepit filled with the last visitors unburnable trash?
WHAT CAN WE DO? It's simple. Pack out all of your trash, whether it's toliet paper, glass bottles, micro-plastic trash or orange peel – if you don't want it laying around your house, it doesn't belong along the trails or campground either. 
DID YOU KNOW? Wildlife is an important piece of keeping our mountain ecosystems healthy. Humans and pets add stress to these animals. Feeding them purposefully, improperly storing food or leaving food waste behind desensitizes wildlife to human interaction, making both humans and wildlife more vulnerable.
WHAT CAN WE DO? Give wildlife room. View from a safe distance – use the rule of "thumb". If you hold your thumb up at arms length, does it cover the animal? Yes? Then you are where you should be. Keep your dogs under control; do not let them chase or harass any wildlife. Do not feed any animals (including those adorable chipmunks and pikas). When camping, store your food properly. And always, pack out your trash.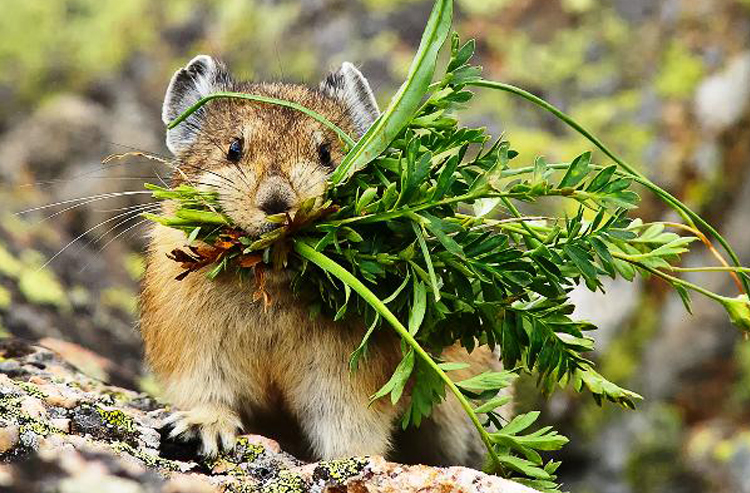 DID YOU KNOW? There are 150 species of wildflowers that grow in the San Juans. Picking wildflowers reduces their ability to reproduce and adversely affects the butterflies, insects and animals that depend on them.
WHAT CAN WE DO? Leave the wildflowers for the species that need them for survival.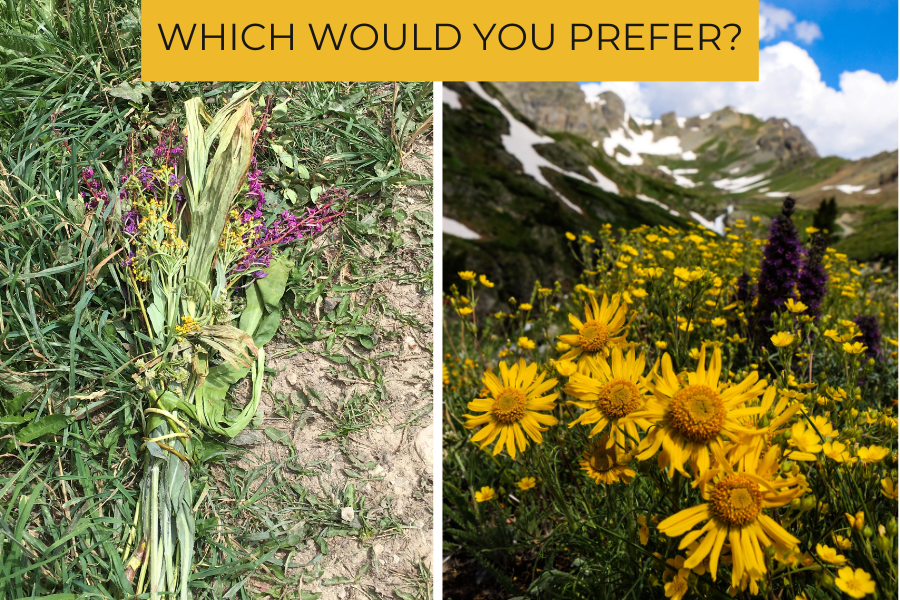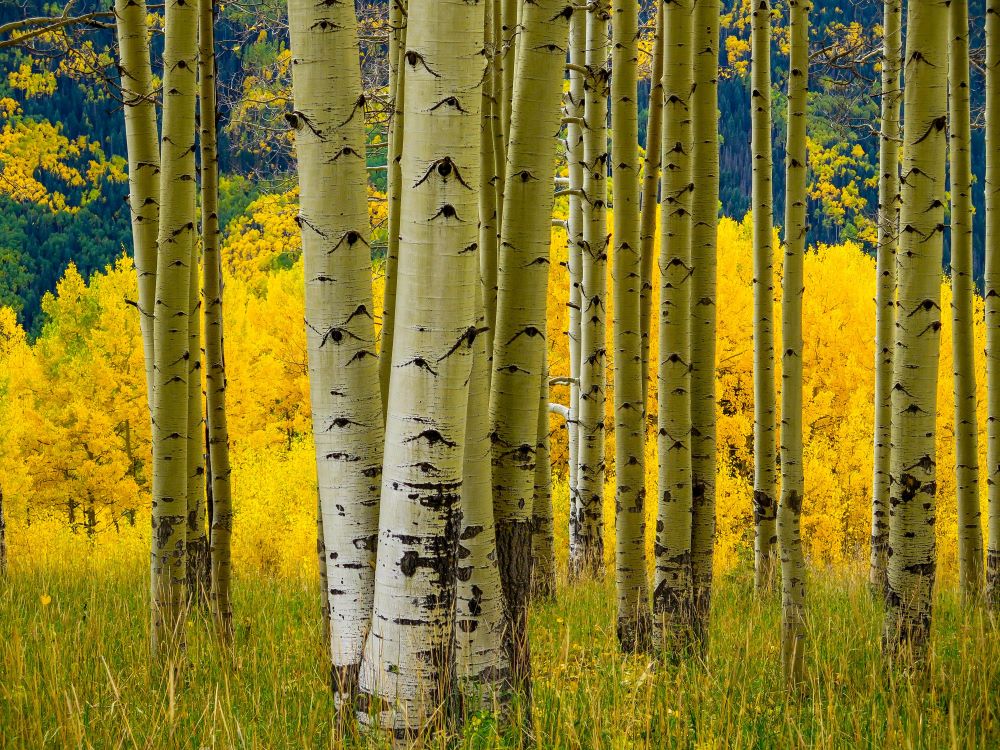 DID YOU KNOW? An aspen grove, the most revered species in the San Juans, is one organism. Carving into one tree can affect many trees by introducing infection.
WHAT CAN WE DO? Enjoy this magnificent species by listening to the gentle rustling of their leaves, surrounding yourself by their golden light in the autumn, cooling off in their dapple shade in the heat of the summer. Please do not carve into their bark.
DID YOU KNOW? Water is one of the most important natural resources flowing from our national forests! The San Juan National Forest alone is the source of four watersheds providing drinking water to Durango, Silverton, Mancos, Pagosa Springs, Dove Creek, Towaoc, Cortez, Dolores, Rico and all that in between. Across the nation, some 180 million people in over 68,000 communities rely on these forested lands to capture and filter their drinking water.
WHAT CAN WE DO? Keep water sources clean by camping and having a campfire a minimum of 100 feet (~40 adult steps) away from any waterway.  If you are in a remote area without toilets, bury human waste (poop) a minimum of 6" deep and at least 200 feet away from lakes, rivers, and other natural waters. And please do not dump your camp waste into the flowing water.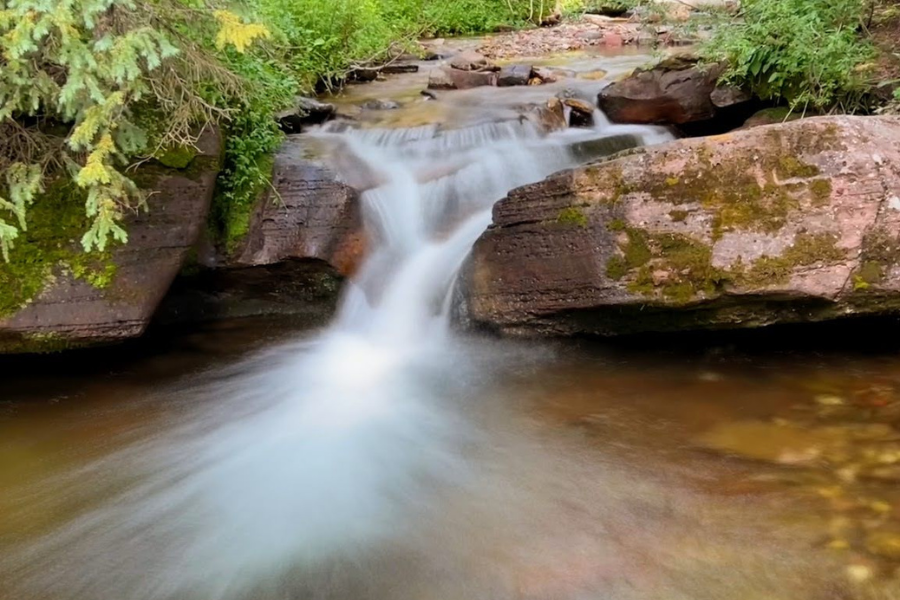 DID YOU KNOW? Whether on your feet, your bike or on your OHV, downhill users yield to uphill users. If you are on a trail with multiple types of recreators, remember, wheels yield to heels. Bicyclists or motorized vehicles yield to all other users while hikers yield to horseback riders.
WHAT CAN WE DO? Keep in mind that people connect to nature in different ways. With the increased growth of population across the state, the trails will inevitably get more crowded and many trails allow many different types of recreation. The best we can do is to remember to share trails with kindness as it is a way of collectively caring for our trails.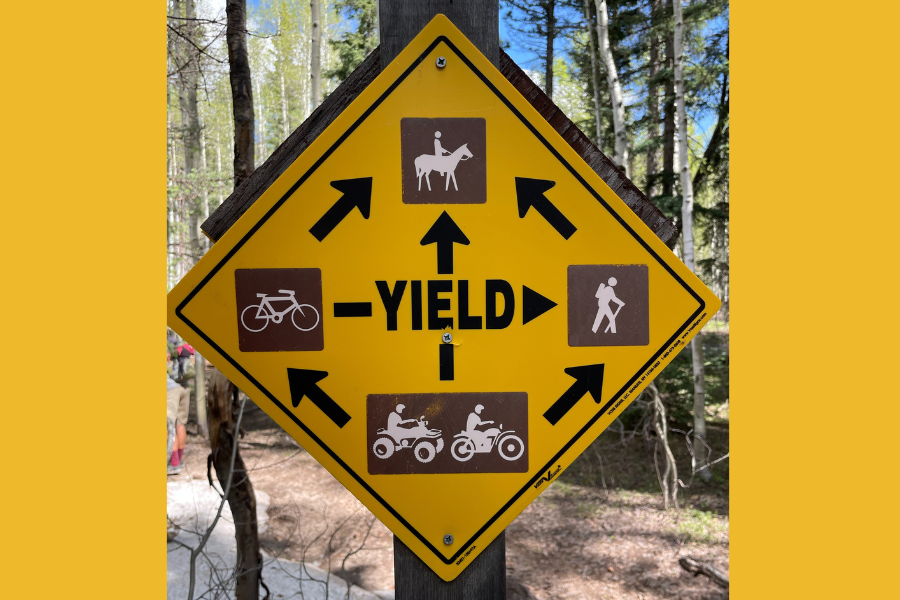 Plan Ahead and Prepare

Camp on Durable Surfaces 

Dispose of Waste Properly 

Leave What You Find 

Minimize Campfire Impacts 

Respect Wildlife 

Be Considerate of Other Visitors