Ice Lakes Basin Management Issues and Solutions
The Ice Lakes area is a very heavily used area with 100-600 visitors per day during July and August, resulting in numerous management issues and concerns. n addition, the area isn't designated as wilderness but it's included in the San Juan Wilderness Act to be considered for inclusion in the Sheep Mountain Special Management Area. It is extremely important that visitors do their part to minimize their impacts, so the beauty of Ice Lakes Basin will remain for others to enjoy now and forever.
Some specific issues to this iconic area are listed below.
Trail braiding: Visitors often avoid seasonal mud and the occasional downed tree, by creating trails around the obstructions causing vegetation to get trampled. This is especially problematic at the stream crossing closest to the Upper Basin and at Ice Lake itself.
Cutting switch backs causes erosion.
Littering: Human waste, toilet paper, and feminine hygiene products have been found both trail side and in the basins. Dog poop bags are left behind, presumably by people who plan on picking them up on the way down and forget.
Campfires in upper basin cause fire scars in the sensitive alpine area. They are unsightly and can last for years. In addition, there is not wood to burn up at 12,000 feet. Using wood from historic structures is prohibited as outlined in the Antiquities Act.
Dogs not under control potentially frighten or injure wildlife, disturb other forest visitors, and create negative impacts on the natural resources. Dogs must be on a leash or under voice control at all time. Check out the San Juan National Forest page on hiking with dogs on the National Forest for more information.
Solutions: What You Can do to Help
VOLUNTEER: If you live in the area, consider volunteering at our Ice Lakes Education Basecamp. Help us reduce human impacts to the spectacular Ice Lakes Basin by encouraging visitors to stay on designated trails, pack-out all waste, respect fire restrictions, adhere to Leave No Trace Principles. SJMA Contact the volunteer coordinator David Taft.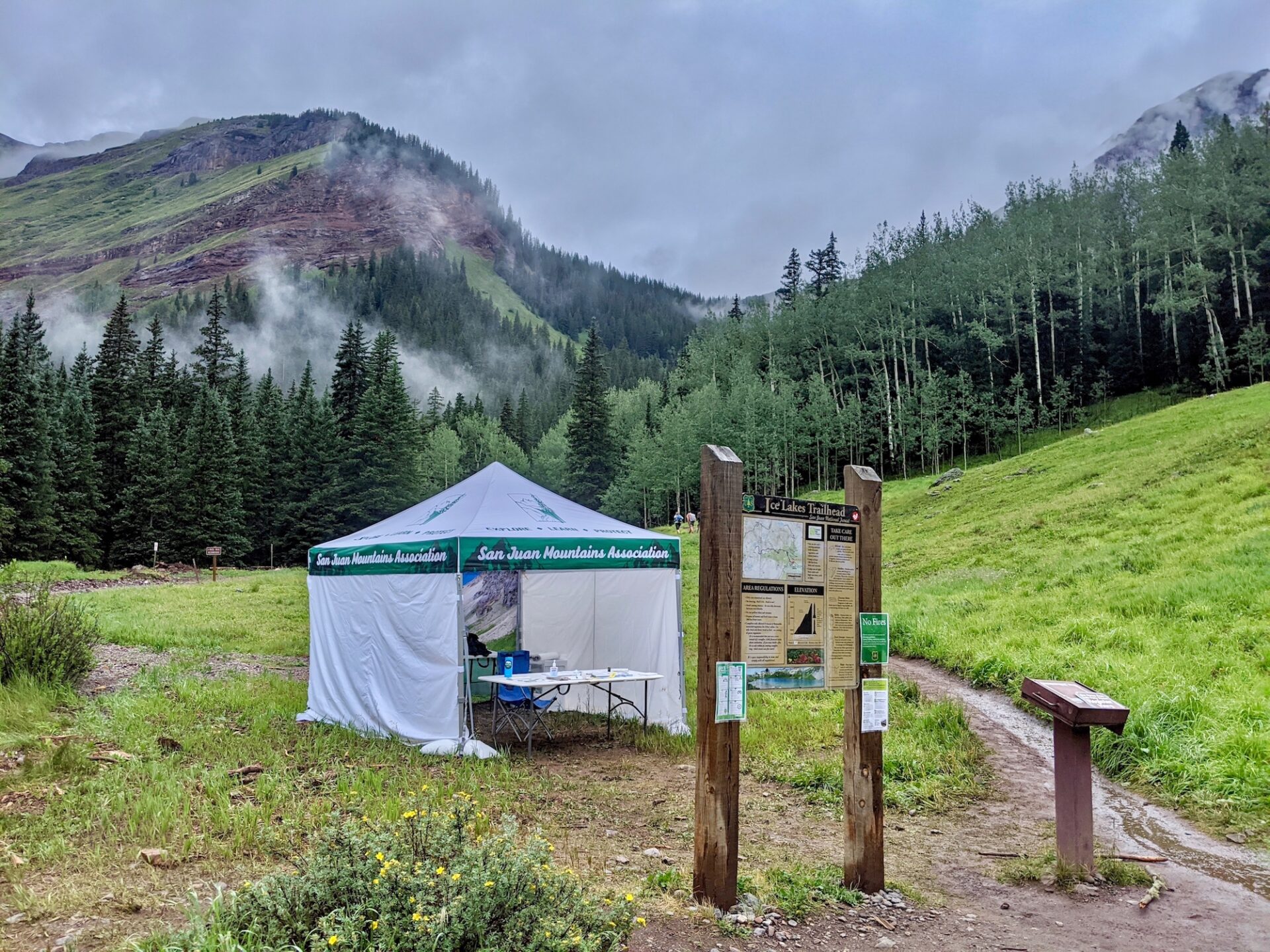 APPLY THE 7 LEAVE NO TRACE PRINCIPLES when visiting the Ice Lakes Area
Plan Ahead and Prepare

Review all San Juan National Forest Regulations and Recommended Practices before your trip.
Wear footwear that you don't mind getting muddy or wet, so you can stay on the trail and not create extra trails.
Bring containment systems (bags) for packing out trash, toilet paper, feminine hygiene products, and human and pet waste.
If cooking, pack a camp stove and fuel rather than planning to build a fire.
If you're planning to camp in the area, know that the Mineral Creek Campground is first come first serve. There is also an assortment of designated spots along South Mineral Road, FR 585. This area is wildly popular, so have a backup plans for camping. If you end up camping at one of the single site pull offs on FR 585, you will not have toilet facilities, so be sure to have a plan for how you will dispose of your human waste, i.e. a human waste bag, a makeshift commode, a poop tube or hiking 200′ (70 large adult steps) from Mineral Creak or any other water source to dig a 6-8" cathole.

Travel and Camp on Durable Surfaces

When yielding to others, look for a good rocky surface just off the trail to step off.
Avoid creating a secondary trail when there is mud. Don't skirt puddles or mud.
Don't cut switchbacks
Camp more than 100 feet (approximately 35 large adult steps) from streams or lakes. This is the rule in Wilderness areas. Leave No Trace recommends 200′ (70 large adult steps).
Set up your kitchen area on durable rocks rather than on tundra vegetation.
Backpackers staying longer than one night should think about moving their tent each night to let the vegetation underneath recover.
Recreational livestock should be restrained more than 100′ (35 large adult steps) from water.

Dispose of Waste Properly

Carry out toilet paper and feminine hygiene products and consider using a human waste disposal bag such as the Restop2, Cleanwaste, or Biffy Bag. Using these bags is actually easier than digging a cathole. Climbers are familiar with using a poop tube, so that is another option.
If you do dig a cathole, be sure you are 100′ (approximately 35 large adult steps) away from any water sources. The 100′ is regulation in a Wilderness area, however Leave No Trace Principles recommend 200′ (approximately 70 large adult steps). Make sure your hole is 6-8 inches deep and pack out your toilet paper.
Carry out all trash, including fruit peels, cores and pits and dog deposits.
Women might consider wearing a panty liner to eliminate the need for toilet paper; just drip dry and let any extra moisture collect on the mini-pad.

Leave What you Find

Don't trample or pick the wildflowers. Leave them for others to enjoy.
There are historic mining artifacts in the area. Do not disturb or remove any historical objects

Minimize Campfire Impacts

If you camp in the upper basin, which is an alpine area with no wood, it's definitely not recommended to have a fire.
If you camp in the lower basin and want to have a fire, use an existing fire ring, keep your fire small and be sure to put it out. Consider not having a fire at all. If you miss having fire for ambiance, pack in a backpack lantern or make a lantern with a headlamp and a water bottle.
Before your trip be sure to check if there are any Fire Restrictions in effect and prepare accordingly.

Respect Wildlife

Pets should be on physical restraint or under voice control at all times.
Do not feed or chase animals or birds.

Be Considerate of Other Visitors

If possible take care of your toilet needs before arriving in the area so you don't need to use the Mineral Creek Campground facilities.
Camp out of sight from trails and high-use areas, such as lakes.
Don't carve on the trees.
LEAVE NO TRACE HOT SPOT TEAM: The Ice Lakes Basin and trail were designated a Leave No Trace Hot Spot in 2016. A Leave No Trace Traveling Team evaluated the area for a week in 2016 and made recommendations for preserving the area. As part of their visit the trailhead sign was installed and some trail work was done. Check out the Ice Lakes Basin Leave No Trace Hot Spot Video below for more information.