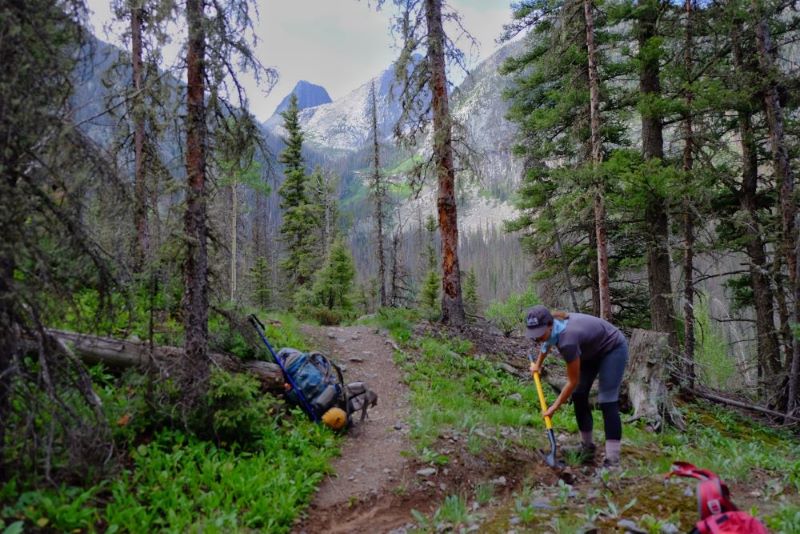 By David Taft, Conservation Director
It needs no saying that 2020 was a radical departure from normal, and it's becoming quite clear that it left its mark on our nation's most iconic public lands. Countless trails and recreation areas saw visitation increases in the 100-300% range, putting an average Tuesday in 2020 on par with the 4th of July week in previous years. Due to this influx, issues including habitat degradation, social trail creation, and massive increases in human waste challenged our public lands and the people who manage them. As we turn the page into a new year it is time to rethink how we tackle challenges to public lands and channel our energy into protecting the places that need it most.
Traditional hot spots were figuratively (and in some cases literally) burned to the ground last summer., San Juan Mountains Association has plans to turn that around by doubling down on our efforts at Ice Lake, Chicago Basin, the Colorado Trail, and the Continental Divide Trail. All of these areas are in desperate need of public outreach presence, trail rehabilitation, erosion management, and a laundry list of other issues. We will do this by expanding our volunteer activities, offering public trainings such as crosscut sawing and outreach, increasing our seasonal staff presence, and growing our partnerships with other organizations.
SJMA also plans to reboot all our educational activities to further enhance and deepen our community's relationship with the mountains and valleys we call home. Our expert staff and volunteers will lead interpretive sessions because we believe understanding these places is the best way to inspire visitors to become good stewards of the land.. We encourage everyone to take a day or two out of their summer to learn about the wildlife, flora, and geology of our mountains.
At SJMA, we are encouraged that so many Americans used the great outdoors as a coping mechanism for the hardships of 2020, because the outdoors should be open to all. But along with this trend we must have a corresponding increase in voluntarism and public support for these places. So take a stand this year by giving back to the places you love. Sign up for one of SJMA's volunteer days, take a training to learn about trail maintenance, volunteer to lead or join a naturalist hike for visitors to the area, or simply pick up trash and be a resource to those needing direction. There is little indication that user numbers will drop back to pre-pandemic levels, so we will all need to contribute in our own ways to ensure the San Juans remain healthy and vibrant.