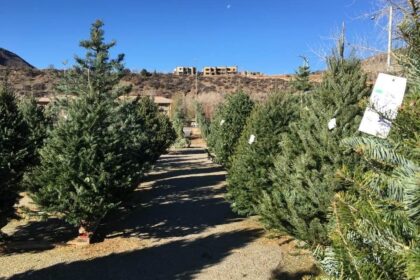 By Shannon Daily
Here at San Juan Mountains Association, we have experienced a bustling, exciting and fulfilling summer and fall. Whether it be our educators running science-based summer camps for youth, our Forest Ambassadors hitting the trails to spread the message of Leave No Trace, or our Visitor Information Specialists educating visitors about our forests, all of us at SJMA have experienced great satisfaction in working towards our mission to inspire and empower connection to and responsible use of the spectacular public lands of Southwest Colorado.  
As our busy field season winds down and the golden leaves have turned to brown, we find ourselves ramping up for our biggest fundraiser of the year, Christmas Trees for Conservation. We would like to invite you to join us on the Tree Lot this year. You can volunteer by working a shift at the Tree Lot or stop by to purchase your Christmas tree from us and browse our Pop-Up Shop for some local stocking stuffers. Here are a few reasons why we operate the Tree Lot.
First, the Christmas trees! SJMA sells both freshly cut local white fir and farmed balsam fir trees from Wisconsin. The local white firs grow right here in the San Juan National Forest, which means an almost nonexistent transportation carbon footprint.  There are no pesticides, fertilizers, or irrigation used so the white firs are not as full as trees from a tree-farm, and have smaller trunks. A large group of SJMA volunteers goes into the forest and cuts these trees from a designated area. Working in conjunction with our partner, the San Juan National Forest, thinning white fir along the road helps prevent catastrophic fires and protects the overstory trees from a crown fire. White firs represent the locally-grown option on our lot and bring a little bit of the San Juan National Forest into your home. We also sell farmed balsam fir trees which are grown in Wisconsin. The ideal growing conditions and fertilization allow the balsam trees to reach a perfect shape and size. 
A second reason that we operate the Tree Lot is the camaraderie felt from working toward a common goal. Volunteering for a 3 hour shift at the sale is a wonderful way to spend time during the holiday season. Likely, you'll see people you know from around the area and help them purchase the perfect tree.
Lastly, the proceeds from the Tree Lot go to supporting SJMA's mission, and serves as our largest fundraiser of the year. We are deeply grateful for all the support from the community. The Tree Lot opens on Friday November 26th at noon and is open every day until the trees sell out. Last year, we sold out in under three weeks, so don't delay! The hours are  Sundays – Fridays from 12:00pm – 6:00pm; Saturdays from 9:00am – 6:00pm. The lot is located at the corner of Camino del Rio and College Avenue in Durango. 
Whether it be volunteering or shopping, we hope to see you at the Tree Lot!  Learn more and sign up to volunteer at www.sjma.org.
Another way to support SJMA? Check out Sticker Mule for the fastest and easiest way to buy custom stickers​ and other printed products! Thank you Sticker Mule for your support!