Special Notices
Chicago Basin Human Waste Bag Study — RESTOP 2 bags are usually available (for free) at the Needle Creek Trailhead. Chicago Basin is a heavy use area with 10,000 visitor days per year, and human waste is a major issue. Please consider taking  a bag and using it.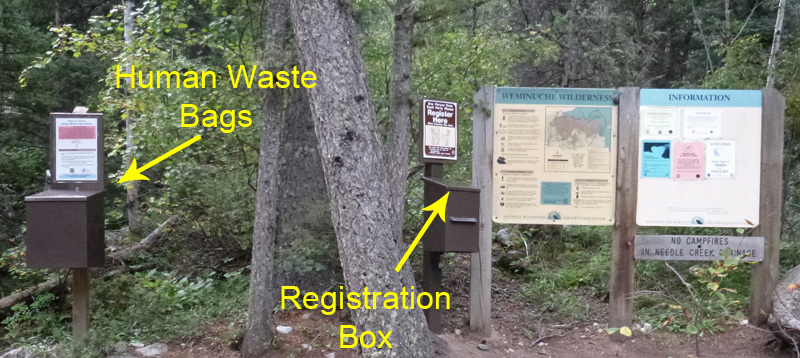 The directions on the bag are for use on a portable commode, however they can easily be used without a commode. Here's a youtube movie that shows how a single bag can be used multiple times while backpacking.  If one doesn't obtain a bag until arrival at the trailhead, it would be handy to pack a small baggie to empty the desiccant powder into. Note when emptying the powder, there is a plastic flap inside that needs to be folded up, otherwise the powder gets trapped under the flap.  Also, as explained in the movie, it's handy to take along some 1 foot square plastic targets, one for each use.
The picture below shows  the trailhead sign that explains the Chicago Basin Human Waste Bag Study.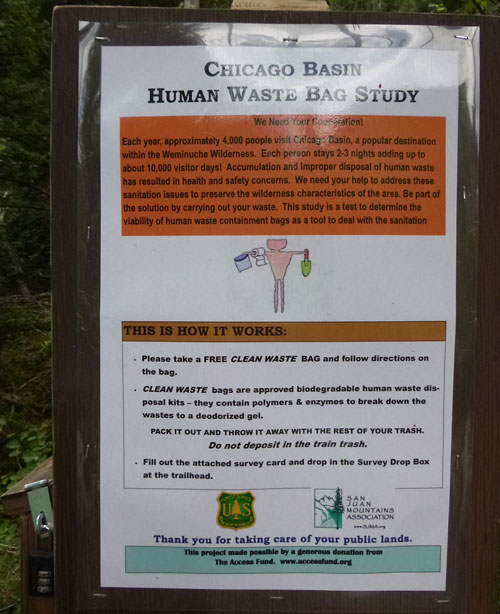 Large Groups:  If you are planning a trip for a group, please contact SJMA (info@sjma.org) to obtain more information for planning your trip and educating your members on group-specific Leave No Trace Principles prior to your trip.
Engelmann Spruce Bark Beetle Damage – With the current invasion of the Engelmann Spruce Bark Beetle, the scene at Chicago Basin is changing. The trees are dying by the thousands, as shown in this 2015 photo.  The trees are showering down needles now and will soon be dead skeletons.  What that means for campers is that as time goes on they will need to become more and more aware of the need to avoid camping under trees that may fall.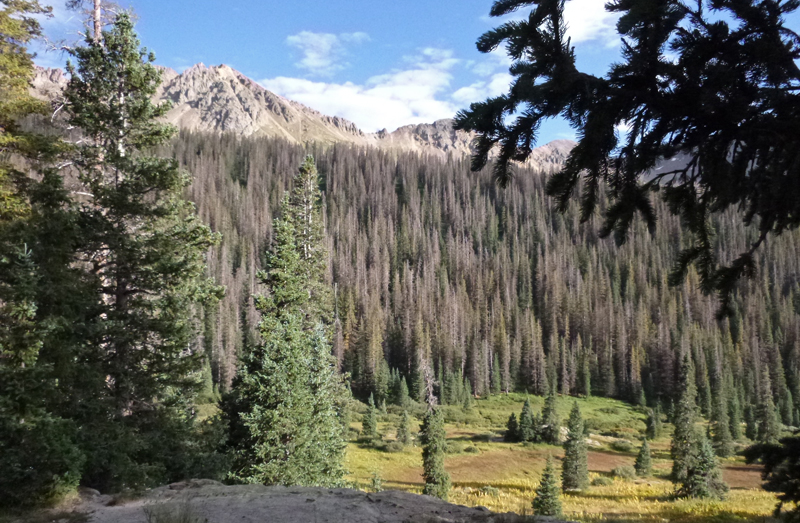 Vallecito Trail Third Bridge is Out — One way to access Chicago Basin is via the Vallecito + Johnson Creek trails. If you choose that route, please know that the third bridge (counting from the South) crossing Vallecito Creek is gone due to an avalanche in the winter of 2004-2005. The avalanche debris was cleared from the trail in fall 2007. It is necessary for hikers to ford the creek. Vallecito Creek is challenging to ford, and is especially dangerous during the spring runoff (mid May through Mid June) and the summer monsoon season (July-August). Please use good judgment and extreme caution if you choose to ford Vallecito Creek. The ford can be avoided by hiking along the west side of Vallecito Creek for 2 miles, but there is no defined trail and it is difficult and time-consuming. Fording is much easier, if it can be done safely.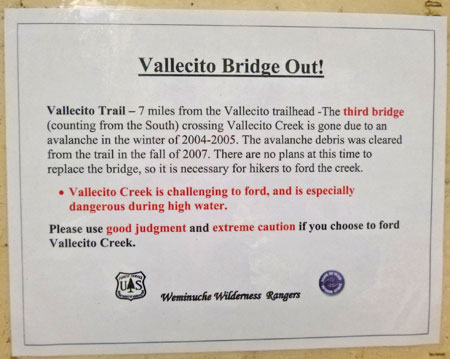 Volunteer Opportunity — The San Juan Mountains Association seeks volunteers to be Wilderness Information Specialists in Chicago Basin. Volunteers ride the Durango & Silverton Narrow Gauge Train (D&SNG) to Needleton, backpack 6.5 miles to the Basin. They talk with visitors about Leave No Trace practices, applicable regulations and recommended practices, and provide trail information. SJMA offers on-line training for volunteers who would like to enjoy the mountains and "give back" something in return. The D&SNG provides free tickets for volunteers. The program begins in mid June and ends in late August.
*Volunteers must be in good health and able to hike and backpack at high elevations. Minimum hiking distance to enter Chicago Basin is 6.5 miles and a 3000 ft. elevation gain.
Contact David Taft to find out more about the training and how to apply.
Weminuche Wilderness Registration — The San Juan and Rio Grande National Forests announced that they will be postponing implementation of a required registration program for the Weminuche Wilderness. The project was postponed due to budget constraints on the Forests.