By Harry Bellow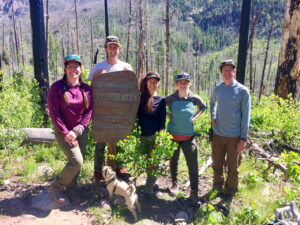 Traveling through the wilderness of the San Juan Mountains, you might not have seen us. We are an elusive bunch.
Oftentimes, our work leads us off trail, bushwhacking to high alpine lakes in the shadows of towering peaks. Odds are you have stumbled across our work at some point during your trips into the wilderness. Our work is often invisible unless you know what to look for: clear trails, litter-free campsites and the disappearance of illegal campsites. The life of a wilderness steward is not easy, but the rewarding nature of the work draws one into a vast array of uncomfortable situations.
Funded with donations to San Juan Mountains Association's Weminuche Wilderness Stewardship Fund, the task of the Wilderness Stewardship Team is to preserve, protect, monitor and educate people about wilderness principles. Our office is the wilderness areas around Durango, some of the most extreme terrain in the Lower 48.
On a typical week, we arrive at the Public Lands Center at 7 a.m. with backpacks filled with four days' worth of supplies. We gather tools and team equipment, such as radios, crosscut saws, Pulaskis and shovels. Our drive out to the wilderness can take anywhere from 30 minutes to a whopping five hours. Sometimes, it is impossible to get all the way to a trailhead as the roads can be extreme in the rugged country. Upon arrival, the team suits up and begins work.
As we enter the wilderness area, we mark down the time and begin to count people we see. The data we collect about usage goes to classify the area in terms of impact. Pristine areas are relatively untouched by humans while semi-pristine areas are impacted by constant visitor use.
While we collect this data, we are monitoring campsites as well. Led by Asia Pfiefer, wilderness monitoring lead of the San Juan National Forest, the team is given GPS coordinates of existing campsites in the area. We find all of these campsites, survey them, pick up any litter and destroy them if they are illegal or have not been used for many seasons.
Commonly, we find aluminum foil in the fire rings, toilet paper in the bushes and forgotten frying pans. Most often, campsites are found along the trails and near a water source. Camping too close to a water source, less than 100 feet, dissuades wildlife from using it.
As we wander through the wilderness, we also complete trail work and make visitor contacts. Our mission is to protect the wilderness character. By clearing trails, we funnel the impact of visitors into a narrow area leaving most of the wilderness in its pristine state. We inform visitors about ways to minimize their impact so the wilderness character can be preserved for generations to come. All the while, mountains and the sounds of wind, birds and insects surround us.
As the sun sets, our work is finished. We often cook dinner, jump into lakes and sleep like the rocks surrounding us. I prefer to get in a nature run before the light fades. I am rewarded with the sights of deer and elk bounding away from me, and I am reminded of my visitor status. The sights I am privileged to see and the clean mountain air remind me of why I do what I do.
Harry Bellow works with San Juan Mountains Association as a wilderness steward.