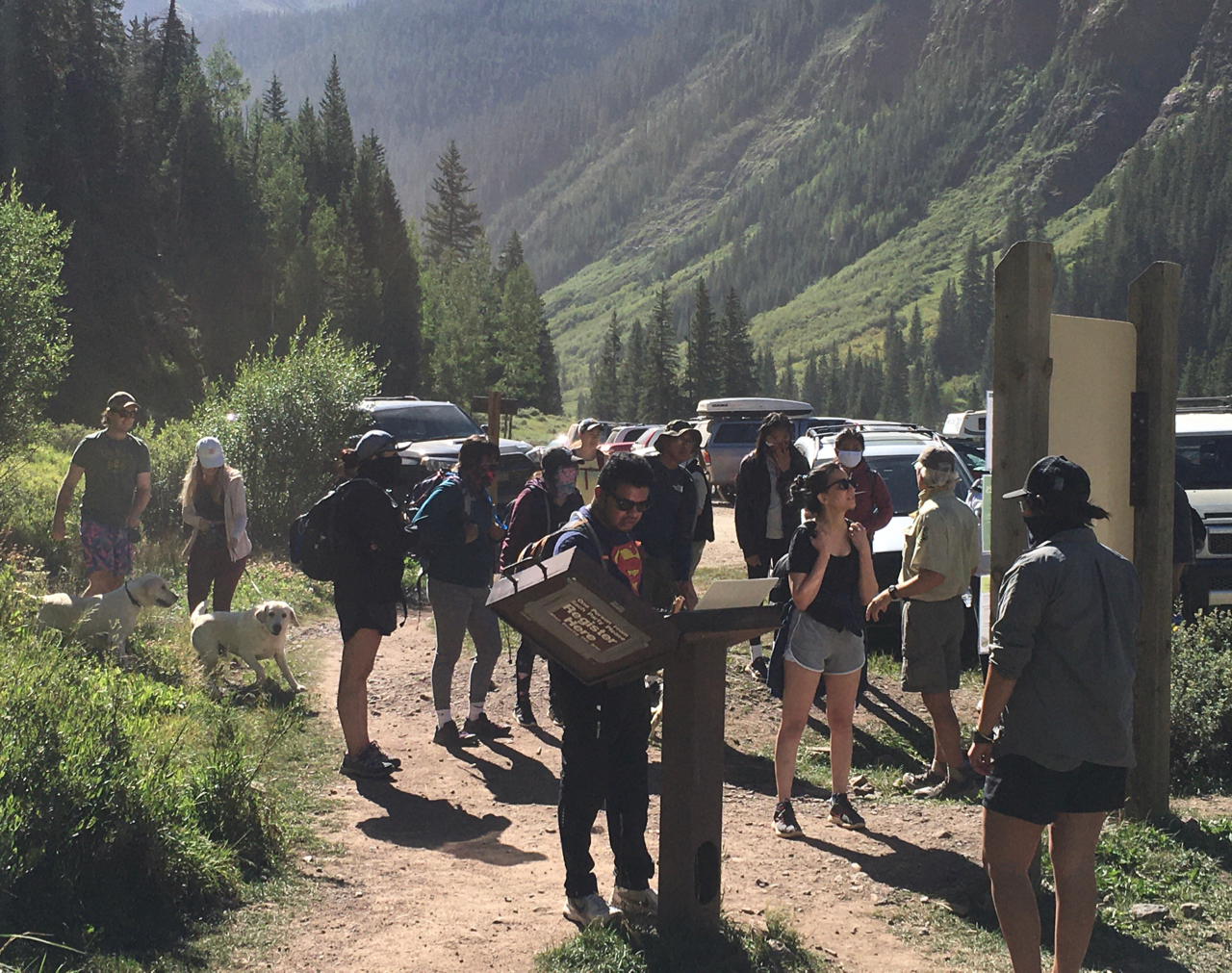 December 13, 2020 by Brent Schoradt
This year, getting outside became a lifeline for Americans of all stripes, and our public lands became more popular than ever.
For me, a long hike anywhere on our public lands is the one activity that brings a sense of normalcy to my daily and weekly routines. Throughout the pandemic, we've all been reminded how important our forests and public lands are to our personal well-being, both physically and spiritually. Here in Southwest Colorado, we're lucky to enjoy relatively easy access to millions of acres of public lands.
Unfortunately, a recent surge in visitors to our public lands has come at a cost. Many forest visitors are not aware of best practices and aren't accustomed to visiting areas without bathrooms or trash facilities. As a result, human waste, toilet paper, trash and graffiti have become an increasingly common site at some of our most beloved local places. That's why San Juan Mountains Association has stepped up its efforts to care for our local public lands.
Since its founding in 1988, SJMA has been committed to cleaning up and caring for our most treasured public lands, such as the Weminuche Wilderness and Ice Lakes Basin. This summer, SJMA volunteers made an immense difference by posting up at our Ice Lakes Educational Basecamp to educate hikers about how to responsibly visit the area.
All told, these local volunteers contributed 475 hours to contact 9,200 hikers and remove hundreds of pounds of trash while providing "wag bags" and dog poop bags to encourage folks to pack out their own waste. During one encounter in August, SJMA volunteers found an abandoned campfire that was quickly extinguished, potentially avoiding a peak season wildfire in Ice Lakes Basin.
After all these efforts, we were devastated to see the Ice Fire occur in late October, just a few weeks after SJMA's Educational Basecamp was taken down for the year, when the area has normally received at least some initial snowfall. We know our efforts make a difference for the landscape, and we are eager to help facilitate the area's recovery from the fire and this unprecedented busy season.
Because of local donations to SJMA's newly formed Weminuche Wilderness Stewardship Fund, SJMA was able to improve conditions on the ground in 2020 and achieve these outcomes in the Weminuche:
Partnered with Southwest Conservation Corps and the Colorado Trail Foundation to remove avalanche debris from the Colorado Trail at Elk Creek, improving access to one of Colorado's iconic through-hikes.Naturalized 298 illegal campsites.Installed eight designated campsites at Rainbow Hot Springs, while naturalizing unsustainable sites.Removed more than 70 downed trees from the Needle Creek Trail to improve access to Chicago Basin.Packed out more than 260 pounds of trash from the wilderness.In these times of great uncertainty, SJMA recognizes that one thing is for sure: Our public lands face growing threats, from persistent drought, catastrophic wildfire, climate change and surging numbers of visitors.
In response to these mounting threats, SJMA is doubling down on its efforts to stand up for public lands by educating visitors, empowering volunteers and instilling a land conservation ethic that will stand the test of time.
We know that caring for the land and protecting our forests and watersheds are core values of Southwest Colorado, and we are committed to digging deeper and standing taller in the face of growing challenges. After 32 years, SJMA's work is just beginning.