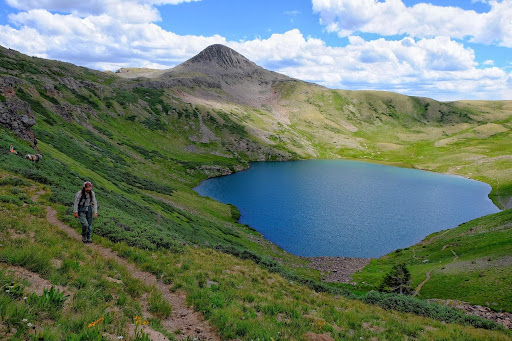 By David Taft
In his wildly popular 1968 book Desert Solitaire, Ed Abbey claimed that "we need wilderness whether or not we ever set foot in it. We need a refuge even though we may never need to go there." Whether one seeks to explore the deepest depths of our greatest wildernesses, shoots a photo of the solemn peaks from the highway shoulder, or relies upon the water and clean air provided by their lush forests and lofty mountainous heights, we all benefit from the existence of healthy open spaces. More so than ever, in the midst of a devastating pandemic and in the aftermath of a catastrophic wildfire season, we can see how our wild places provide enormous value to our economies as well as the physical and emotional wellbeing of our society. 
We have a particularly clear view of the value received from our mountain forests in regard to water storage and purification as we watch the recovery in the Cameron Peak Fire zone. This fall, the downstream towns which rely on the Poudre River for water are spending $300,000 each day dropping mulch from helicopters in an attempt to prevent debris slides, allow for greater water uptake into the soil, and to keep sediment from polluting the water system. According to engineers this is a relatively small price to pay compared to the damage caused by debris flows into rivers and reservoirs, and the associated purification costs incurred to amend that situation. Considering that not only our small community, but eventually 20 million people in the Colorado River Basin rely on water from our local wildernesses, it's easy to imagine just how integral this resource is to our society. 
In addition to the profound importance of healthy forests to our water system, there is a well documented and growing body of research indicating that access to open space is among the most significant factors in determining mental health outcomes. In Southwest Colorado we are fortunate enough to have millions of acres of open space within a short drive, walk, or bike ride, and it goes without saying that this is one of the greatest reasons for continued growth in our communities. A Dutch study of over a million residents found that access to open space has the second highest correlation with positive mental health outcomes of all the factors studied. This is exceptionally important during a pandemic in which the CDC finds increases of anxiety and depression incidences 3-4 times higher than in previous years.
Given these exceptional benefits of healthy open space to our society and economy, we must continue finding effective and creative solutions to protect them. This summer, crews from the San Juan Mountains Association educated over 15,000 forest visitors about Leave No Trace practices and wildfire safety, covered hundreds of miles monitoring trail and forest conditions, hauled out almost 2,000 pounds of trash, naturalized 300 illegal fire rings, and cleared over 600 downed trees from San Juan Mountain trails. Through these efforts, our staff have not only played a valuable resource in educating forest visitors about how to protect this immense resource, but also ensured that visitors and locals alike are able to benefit from their time in the mountains. Each year during the month of October, we like to take a moment to thank these crews for the work they've done, and encourage everyone to do so by ensuring the financial viability of this program. Visit our website at sjma.org to become a member and support these efforts, and thank our field staff next time you see them on trail for all their hard work!