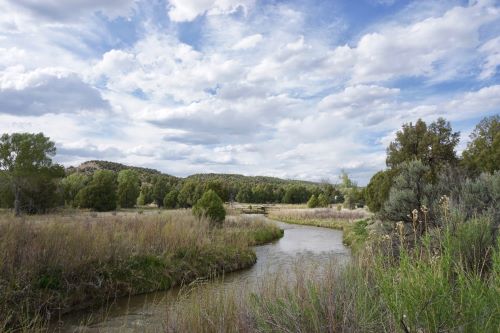 By Rachael Woodie,
The Spring wind rushes across a plateau of rabbitbrush and gamble oak as the gently flowing Florida River chatters over shallow rocks below. To the north, the monumental snowy 14,090' peak of Mount Eolus pierces the blue expanse of sky. In the river bottom, towering cottonwoods prepare to welcome in Spring with their tangy and sweet smelling crowns of leaf buds. Gazing across this valley reveals a rich riparian ecosystem that abruptly rises and gives way to nearby arid cliffy outcroppings of sandstone and shale. 
Can you guess where this desert oasis is? This varied landscape is the San Juan Mountains Association (SJMA)'s 140-acre Nature Center, located 20 miles south of Durango just upstream of the confluence of the Animas and Florida Rivers. From conservation and ecological perspectives, the Nature Center has long filled a vital niche for wildlife, plants, and humans alike. The Ute people are the oldest inhabitants and stewards of this land. They relied on many of the resources that we find at the Nature Center today, such as the three leaf sumac, sagebrush, and yucca plants.
Today, with 105 of its acres along the Florida River, the Nature Center provides an important riparian corridor for wildlife year-round. If you were to meander down the trail from the parking lot and pause on the bridge, in the soft sand of the river's banks you could likely spot the prints of deer, raccoons, great blue herons, and perhaps bears and mountain lions. Crossing the bridge, you would find yourself waist high in an ecotone of sagebrush, rabbitbrush, and depending on the season, a plethora of vibrant indian paintbrush and flowering milkweed–but watch out for the prickly pear cacti! 
Journeying on you will pass the Lion's picnic Pavilion and be greeted by the woody pine smells of the next ecozone: piñon-juniper. Piñon Jays may dart through these ever-greens as you step into their shady corridors. Yet quicker than you may expect, your path will begin to rise and you will soon find yourself surrounded by large red rocks of sandstone as you hike along Rattlesnake Ramble. The trail is aptly named, so keep your eyes keen and your ears alert as you watch Collared Lizards and Horny Toads scamper across the rocks. Rattlesnake Ramble will bring you up the other side of the valley where a panoramic view of the Florida River valley and La Plata mountains will beckon you to pause and take it in.  
The multitude of flora and fauna within the diverse ecozones of the Nature Center makes it an ideal outdoor learning laboratory. Since 1998 the Nature Center has inspired a love of learning in thousands of students through Durango Nature Studies. SJMA has continued these education programs since the merger between these two organizations in 2020. After two years of limited operations, restricted to summer camps and educational programs, SJMA is thrilled to once again open this beautiful place to the public on April 24th. 
We invite you and your family to join us on Earth Day weekend at the Nature Center for self-guided and naturalist-led hikes, educational activities, picnicking, kid-friendly scavenger hunts, and more! Pack a picnic and water and stop by the Nature Center (63 County Road 310, Durango, CO 81301) on April 24th between 9am-2pm. We hope to see you there! More information at: www.sjma.org/nature-center.
Rachael Woodie is the Community Education Specialist at SJMA and oversees the Nature Center, in her spare time you can find her seeking some water-related adventure.