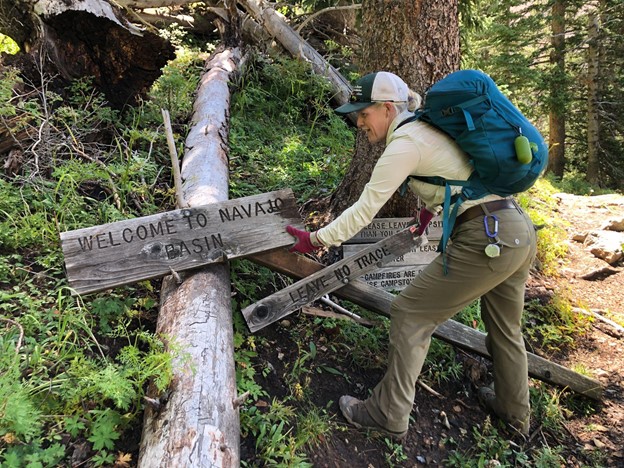 By Cassidy Storey
In Durango, the shift from Summer to Autumn brings warmer layers out of the closet, plans for desert season, and a rush to behold the aspens before their leaves fall. At the San Juan Mountains Association (SJMA), it also signifies the end of our summer stewardship crews. As the first spots of gold splashed across the highest aspens in the San Juans, SJMA's front-country Ambassadors wrapped up a summer of outreach and stewardship throughout the San Juan and Uncompahgre National Forests as well as the Alpine Loop.
With one year of Ambassador work under our belts, we began this season optimistic for a second successful summer. We employed a crew of eight to engage with the public on "Leave No Trace" principles, responsible recreation in a variety of ecosystems, and protecting the magic of the San Juans, all while improving environmental conditions and removing hundreds of pounds of trash. Thanks to support from the Rocky Mountain Restoration Initiative (RMRI); county, state, and federal government; and support from SJMA members and corporate sponsors, we were lucky enough to welcome back five Ambassadors from the 2021 season and add three new stellar individuals to cover trails from Blue Lakes to Ice Lakes, Vallecito to Lizard Head, and many popular places in between.
The small but mighty team of Forest Ambassadors made nearly 14,000 public contacts, hiked about 1,200 miles, naturalized or cleaned 150 fire pits, and packed out over 400 pounds of trash! At the same time, our Alpine Loop Ambassador single-handedly removed more than 1,000 pounds of trash from the high alpine tundra and spoke to over 1,000 OHV users about the importance of staying on the trail in the high country where damage manifested by motorized vehicles could take many years to regenerate.
But why do these numbers matter to the average public lands' enthusiast? Think of it this way: every time you visit an iconic trail in the San Juans and your trip is not tainted by human and pet waste, poorly-draining trails, excessive trash, overgrown vegetation, or messy campsites, there is a good chance an SJMA Ambassador had something to do with it. If you don't notice our work, it means we're doing it right and contributing to a safer and more enjoyable public lands experience.
The Oxford Dictionary defines an "Ambassador" as a person who acts as a representative or promoter of a specified activity, and, in our case, there's more to the job than just time on trail. You may have encountered one of our Ambassadors in a variety of settings. Representing SJMA, RMRI, and our federal partners, the crew led volunteer cleanup events, provided visitor information in Durango and Silverton, hosted interpretive walks, and attended many community events to share messages on forests, wildlife, water resources, and recreation opportunities across the mountains. We can't thank this team enough for sharing their passion for public lands in our neck of the woods.
While our stewardship programs slow down for Fall, we have big plans for Winter. The San Juans are a year-round destination, so we're preparing to bring back our Snow Ambassador program for a second season. In 2021, SJMA's Snow Ambassador stationed at Molas Pass reached hundreds of visitors about avalanche safety, winter ecology, and how to "Leave No Trace" as a winter recreationist. Stay tuned to our website or social media for updates on this year's Snow Ambassador as well as snowshoeing interpretive hikes and other winter events.