Nick Keeler
The winter season in Southwest Colorado is one of beauty, change, quiet and inspiration.  It is difficult to imagine a more picturesque winter mountain setting than what each one of us is blessed with on a daily basis. People from across the country travel here to experience the aesthetic beauty possessed by the mighty San Juan Mountains.  When the snow has fallen and many trails, peaks, and alpine lakes seem inaccessible, know there are safe locations to travel to and different methods to reach those special places.   
The informed winter enthusiast must always consider the topography and potential for avalanches, current snow condition, future weather possibilities, and have the proper gear and the knowledge of its use.  Even when all of these factors are prepared for, during certain weather conditions there is always the potential of avalanche danger.  Remember this simple but important truth, "Enough snow to ride? Enough snow to slide."
While we don't want to deter folks from getting out in the snow, the winter recreationist should know the potential for danger if the proper precautions are not taken into account.  Any number of different "gear lists" can be found on-line for different occasions; some essentials to bring on your San Juan adventure include: at least one detailed map of the area, a compass, extra warm clothing, a warm blanket (in case of an unplanned overnight stay), flashlight or headlamp, pocket knife, first aid/survival kit, extra nonperishable food, and more water than you think you would need. The San Juan National Forest offers a free winter guide/brochure, "Where to Go in the Snow, on San Juan Public Lands", which includes a gear list as well some avalanche awareness and survival tips. 
Purgatory, Hesperus, Telluride, and Wolf Creek are good options to downhill ski and snowboard, but where would a person go in the San Juans if they were looking to walk a trail, snowshoe, cross country ski (XC ski), or snow-bike? Haviland Lake about 17 miles north of Durango offers a wonderful winter trail system. This is an area with minimal avalanche danger, a well-established and maintained trail system, it is right off Highway 550, and no major mountain pass prevents its access. Are you looking for more snow and a higher elevation experience? A little further to the north past Purgatory lies the Molas Pass Winter Recreation Area.  If the snowpack is minimal, or there is an early or late season urge to snowshoe, Molas Pass is where to go.  Just to the south of Silverton off Highway 550, at an elevation of 10,910 feet is where you will find this gem.  There are 200 acres designated specifically for non-motorized use, which allows for more of a wilderness experience and provides a safer environment for all.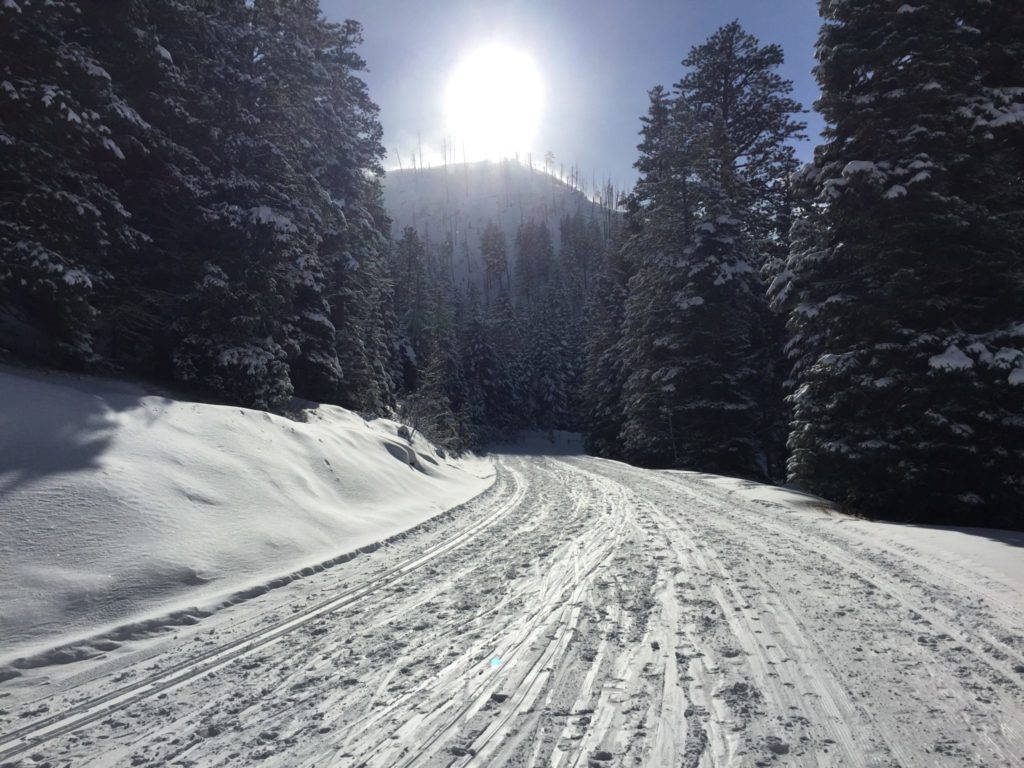 Closer to Cortez and Dolores there are some good prospects to be explored. Just north of Dolores is the Boggy Draw trail system, which functions as a snow-bike and snowshoe trail system in the winter months.  Closer to Mancos is the Chicken Creek XC Ski area, which provides another nicely groomed trail system with the emphasis here being on cross country skiing.  These areas near Dolores are a bit lower in elevation, so if we experience a lack of a winter like last year these locations may not be covered in snow. Up near Lizard head pass next to Trout Lake on the Uncompahgre National Forest is another vast winter playground to explore. Cross country skiing, snowshoeing, snow-biking, and snowmobiling each can find a home here at 10,222 feet on Lizard Head.  The trail destinations mentioned in this article have been selected because they generally do not exhibit extreme avalanche danger. However safety and preparation are ultimately up to the user, one must "know before you go".  For more information about winter safety and recreation please visit or contact the San Juan Public Lands Center at 15 Burnett Court in Durango or (970) 247-4874.  The Public Lands Center contains one of our bookstores for the San Juan Mountains Association; we have an assortment of guide books and maps available, along with first-hand knowledge and information to benefit any winter recreationist.
The snow covered peaks of the San Juan Mountains are sure to inspire and charm, but must also be respected. The solitude one can find in these mountains is utterly remarkable, there is an entire outdoor recreation industry in the Four-Corners which can attest to that.  Even in winter, John Muir knew exactly what he was saying, "the mountains are calling, and I must go."