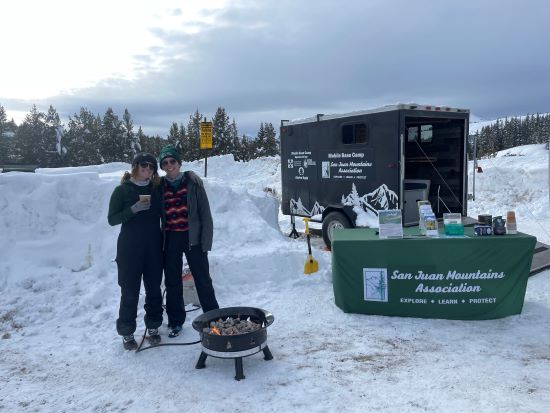 By Mike Wight
Ah, winter…  As the white stuff piles up around us this year, I'm excited to get out in the mountains – to sled, ski, and explore the backcountry. When white-capped, the San Juans are majestic, but can also be dangerous. Tuning in to local avalanche conditions and following some basic safety precautions can make the difference between a day of winter fun and an avoidable accident.  
This winter, all of us at San Juan Mountains Association (SJMA) are excited to kick off our second winter season at Andrews Lake and welcome our new Snow Ambassador, Hannah Green, who is stationed at our Mobile Basecamp at the Andrews Lake winter parking area on Molas Pass. We'll be stationed in the area every Friday through Monday until the end of March to provide information to visitors using this popular spot for winter recreation. 
Hannah brings great experience to this position as she served as a SJMA Forest Ambassador in 2021, volunteers for San Juan County Search and Rescue, and holds an Recreation Avalanche Training level 2 certification. Stop in to say hi this year when you are in the area, grab a hot drink, and check in on what's happening with the snowpack on the daily. Hannah will be primarily based at the Andrews parking area, but roving area trails and trailheads to interact with both motorized and non motorized visitors, to share information on winter Leave No Trace, Wilderness boundaries, groomed snowmobile trails, and more. This position represents a partnership between SJMA, CDOT, and the San Juan National Forest with a purpose of promoting safe and responsible use of our shared resources. Thank you to San Juan Sledders Ken Hilfiker for developing a detailed map of the Andrews Lake area and nearby motorized use trails for us to share this year!  
In addition, SJMA and Mountain Studies Institute are excited to offer our Snow Science and Social interpretive snowshoe hikes once again this year. Starting January 14th, these free events will be offered every other weekend through mid March. Free to the public, these events offer a combination of snow education, travel awareness, winter ecology and fun! Finish with a hot beverage around a fire, check out our new Mobile Basecamp and meet our team!  Registration is required, and details can be found at https://sjma.org/events/. Snowshoes can be provided for those that need them. 
If you don't have an opportunity to swing by the Mobile Basecamp or attend one of our winter events, remember to be safe out there, regardless of your activity.  
A few tips for winter safety:  Plan ahead and Prepare!   
Check the avalanche forecast and local conditions at

https://avalanche.state.co.us/

.

Let someone know your plan for the day, including an exact location and time of return. Check in with them when you are back.  

Carry the right equipment for any situation- extra layers, food and water, first aid kit, emergency gear repair, wag bags, and a communication device.   

Stay off slopes above 30 degrees, and areas with steeper slopes above.

Educate yourself! Consider an avalanche awareness course, such as those offered by our local Friends of the San Juans. 

Remember- just because someone else went there, doesn't mean it's safe!
Mike Wight is SJMA's Associate Director.