Cultural Program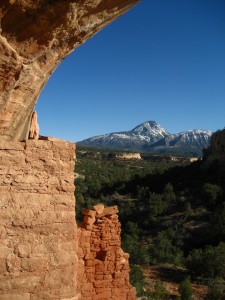 The San Juan Mountains Association (SJMA) develops and conducts a variety of cultural activities within the Cultural Program.  Consistent with SJMA's mission, the cultural program provides education and interpretation of the broad range of cultural resources on public and other lands, including prehistoric and historic archaeological remains, ethnographic resources, and the records and data associated with these resources.  Educational and interpretive activities include field venues for participants of all ages. The Cultural Program consists of the Southwest Colorado Cultural Site Stewardship Program and several cultural projects.
Since 2001, the SJMA has directed the Cultural Site Stewardship Program (CSSP) using trained stewards who monitor prehistoric and historic archaeological sites on public lands. Selected as a model for the new 2008 national Preserve America Steward Program, the SJMA stewardship program was recognized by First Lady Laura Bush at the White House. The SJMA program received one of the first awards in the national program.  In addition in 2008, the Colorado Historical Society awarded the program the prestigious Stephen H. Hart award for preservation education.
Other current cultural projects include the documentation and study of historic Hispano arborglyphs (tree carvings) along the Pine-Piedra Stock Driveway and the inventory and documentation of historic rural cemeteries in La Plata County. Past projects include the documentation of the Redvale CCC Camp, a La Plata County county-wide historic survey, the documentation of rural La Plata County schools, a heritage education outreach project, and the recording of four rural cemeteries that are the resting places of diverse ethnic and religious populations in our area. To learn more about these projects, please go to the following pages.  The SJMA calendar page lists upcoming activities for the cultural and other programs.