Forest Fridays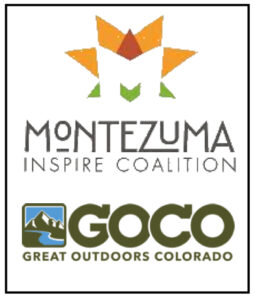 Interested in the outdoors? Tired of too much screen time? Need a breath of fresh air? Join our science educators every Friday to hike our public lands, learn about local ecosystems, engage in stewardship projects, and get experience for future careers in the field.
COVID Modifications:
Participants will be asked to maintain 6 ft. of social distancing when reasonable, wear face-masks, and hand-wash/sanitize frequently
No shared food or communal eating spaces
Families will be expected to self-monitor for COVID-19 symptoms
Daily temperature checks will be conducted by program counselors
We will transport the participants to the trailheads each Friday but ask that they wear masks for the entire car ride. Parents can meet us at the trailheads if you would prefer to transport  your child.

We ask that parents please have conversations with their kids about social distancing, using the restroom outside, and the expectation of long(ish) periods of physical activity
Age Eligibility: 7-12 graders
Dates and Time: Fridays from 9:00am – 4:30pm
Sept 18: Box Canyon and Overlook – Map Reading & Aquatic Ecosystems
Sept 25: BLM – East Creek Trail Loop – Desert Ecology
Oct 2: Ramparts Loop – Montane Ecosystems
Oct 9: Boggy Draw – Fire Ecology & Management
Oct 16: Lizard Head – Alpine Ecology
Oct: 23: Stewardship at Chicken Creek
Oct 30: BLM – West Creek Trail Loop – Geology
Nov 6: Mesa Verde – Ancestral Puebloans
Nov 13: Stewardship at Chicken Creek
Nov 20: BLM – Sand Canyon – Ancestral Puebloans
Drop off and Pick up Location: Boyle Park Mancos, CO 81328.
Cost: Free to Montezuma youth, thanks to scholarships from our partners at Montezuma Inspire Coalition and GOCO.
Max Number of Participants: 13
Gear Giveaway: With attendance, participants can earn an Osprey backpack filled with goodies such as maps, guidebooks, water bottles, and more! This will be awarded based on a point system – we will give the bag with goodies to all participants who earn 100 points. Here's how to earn points:
Each educational Forest Friday is worth 10 points (must attend at least one of these)
Each stewardship Forest Friday is worth 25 points
Can't make it to enough Forest Fridays? Participants can earn 5 points for any hike they do with proof (a selfie on the trail works just fine!)
Please Note:  This camp will include strenuous activity and exposure to the elements. Participants should be prepared to spend the entire day outside. On some days we will hike distances up to 8 miles through alpine or desert terrain.