By Lexie Stetson-Lee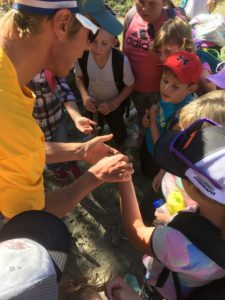 San Juan Mountains Association (SJMA) is developing a pipeline of conservation education programs to connect the local community with their public lands. SJMA has long provided interpretive programs as a partner of the U.S. Forest Service, serving up glacial geology tours, edible plant hikes and volunteer crew training for adults with a passion for conservation. And
now, after the organization's merger with Durango Nature Studies, we are able to pair youth education, from preschool to high school, with stewardship of local land.
This pipeline of programs is rooted in the idea that consistent, repeated outdoor experiences over one's lifetime can have a transformative effect. A transformative effect on self-efficacy levels, technical skills, mental health and a sense of belonging. A transformative effect on how we react to, and relate to those using public lands differently than we do. A transformative effect on the local landscape as we decide to respect and steward our public lands.
You know the ingredients: backyard exploration, cultural stories, time by a creek, experience working with animals and agriculture, chopping wood, hiking the blackened Hermosa Creek Trail, and looking for fish in the Highland Mary Lakes. These are the building blocks for an ethic of stewardship. Developing good stewards of the land is a process—it takes time and effort.
Outdoor education has the power to do this work, especially in small, myriad ways. The other day, my four-year-old daughter shrieked: "Harold!" She named an ant found on the sagebrush hill behind our house. "Airwld." Repeated my two-year-old son after her. Monkey see, monkey do. Small, consistent trips outside serve as medicine during this time of stay-at-home anxiety, in addition to providing educational opportunities. Lately, in our household, we've learned about Wilderness designation, local watersheds, and the Woolly Apple Aphid. I treasure outside time with my own children as it reasserts that they will have a connection to nature, and if not an interest in, at least a willingness to learn about life interwoven with the land. Their future will depend on our collective ability to live in harmony with the natural world. Southwestern Colorado's identity, heritage, quality of life and economic well-being all stem from our connections to the spectacular public lands that surround us. I hope that through repeated connections to nature, my own children will be given a voice in these issues.
Public lands stewardship is a recognition of our collective responsibility. A timely idea as we process the COVID-19 pandemic and our response to it. Seemingly, our collective responsibility for stewarding public lands is even more poignant—even more promising with a robust educational infrastructure. The small choices we make now, including educating ourselves and our community, are key steps towards a healthy land use future.
With Colorado Public Lands Day upon us, on May 16th , SJMA encourages everyone to recognize and celebrate the incredible access we have to open space and the outdoor education opportunities available in our region. In honor of Colorado Public Lands Day, SJMA is hosting a Facebook Live teach-in on the "Watersheds of the Weminuche Wilderness" at 10:00 AM on Thursday, May 14th . Join us to learn how the spectacular Weminuche Wilderness contains some of the West's most important watersheds. We're hopeful that your engagement will spur more interest in the land we all use and love.